Michigan Political Leadership Program's Class of 2022 was named Tuesday, a group of 24 Fellows whose professional backgrounds range from classrooms to fire halls, small business, advanced manufacturing and the state Capitol.
The Fellows, from across Michigan, include teachers, a firefighter, legislative aides, local government leaders, information technology managers, and a designer and founder of a clothing brand.
"We are delighted to announce another diverse class of Michigan Political Leadership Program (MPLP) Fellows," said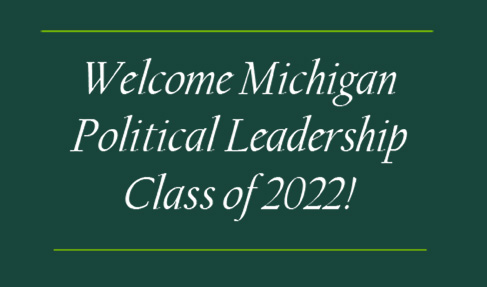 Dr. Matt Grossmann, director of the Institute for Public Policy and Social Research (IPPSR) at Michigan State University.
"They follow in the footsteps of more than 700 MPLP alumni whose leadership continues to make its mark across the state," he added.
Since 1992, MPLP has raised essential funds and designed curriculum and leadership activities to train 24 men and women during 10 months of learning about campaigning, seeking public office and leading once elected.
The Class of 2022 will begin weekend training, including tours, hands-on exercises, leadership simulation, budget negotiation, campaign development, media relations and office seeking workshops, in February 2022. The MPLP Class will be traveling to Detroit, Bay City, Traverse City, Roscommon and Grand Rapids during 2022.
"This is the hallmark of MPLP's exceptional nearly three decades of success," said Rudy Hobbs, a former state House member and current Oakland County deputy executive who serves as one of MPLP's two co-directors. "We are looking forward to great interaction as a new class of MPLP Fellows begins its time together," said Hobbs, a former House Democratic Floor Leader.
MPLP is one of the nation's few multi-partisan political leadership training programs. The program makes its campus home at IPPSR, which specializes in public policy, political leadership and survey research. IPPSR is a unit of MSU's College of Social Science.
Among MPLP's more than 700 alumni are 11 seated in Michigan 's Legislature. An estimated half serve in elected or appointed positions. Scores more hold offices at the township, city, county, school board and precinct levels. MPLP alumni also lead in nonprofit and for-profit organizations and tribal governing bodies.
"MPLP's strength rests in its curriculum, its incredible range of support and its alumni, which reads like a Who's Who in American Politics," said MPL Co-Director Tonya Schuitmaker, former state House and Senate member. "I'm looking forward to a great 2022," said Schuitmaker, who served in a number of legislative positions, including Assistant House Republican Floor Leader.
MPLP's year is traditionally capped with a festive fundraising dinner. This year's event features pollster and communications professional Frank Luntz. Tickets are now available for dinner on Wednesday, April 20, 2022 at the Lansing Center.
MPLP's Class of 2022 includes:
Erica Abel, of Grandville, third grade teacher and founding partner of the Whimsical Writer's Club.
Nyjai Black, of Detroit, network engagement manager for the Michigan After-School Partnership.
Lisa Brayton, of Portage, a Portage City Council member and the founder of the non-profit charity Haley's Hope.
Jessica Brutzman, of Traverse City, associate real-estate broker and chair for the Realtor Political Action Committee.
Sarah Burch, of Ann Arbor, small business owner and grassroots organizer.
Tom Curtis, of East Lansing, deputy director of state affairs for the National Committee for Quality Assurance (NCQA) and member of the Ingham Health Plan Board.
Brittney Ellis, of Davisburg, municipal attorney at The Kelly Firm and vice-chair of the Oakland County Conservation District.
Emily Henderson, of Lansing, government affairs consultant with RWC Advocacy focusing on state-level health and human services issues.
Elaina Huizenga-Chase, of Grand Rapids, project manager for road construction for Michigan Department of Transportation. She serves on the Walker City Commission.
Jordan Jorritsma, of Holland, a legislative director for state Rep. Greg VanWoerkom and a volunteer for Camp Roger.
Abby Klomparens, of Lansing, legislative director for state Rep. Christine Morse. She also volunteers for the organization Next Generation Women.
Taylor Lawrence, of Fenton, legislative director for state Rep. Kyra Harris Bolden and a Great Lakes Political Academy communications fellow.
Ashley McBride, of Bloomfield Township, community engagement manager for Oakland County. She also serves on the executive committee of the Northern Oakland County Branch NAACP.
Mitchell Moore, of East Lansing, legislative director for state Rep. Mark Tisdel and former public affairs intern at the U.S. Embassy in Africa.
Scott Nagy, of Manistique, information technology manager for Schoolcraft Memorial Hospital and a youth sports coach
Gary Ringer, of Redford Township, director of community and economic development at Joy Southfield Community Development Corporation. He is a Detroit firefighter.
Brittney Rocha, of Kentwood, policy advisor for the state Senate Majority Policy Office and a practicing attorney.
Jack Schroeder, of Troy, constituent services director for state Rep. Shri Thanedar and an educational support volunteer at the Children's Center.
Emerson Silvernail, of Byron Center, legislative director for state Sen. Mark Huizenga and a committee member of the GOP Executive Committee.
Eric-John Szczepaniak, of Grand Rapids, president of the Michigan Center for Civic Education and a member of the Kenowa Hills School Board.
Jason Towler, of Whitmore Lake, special education teacher and Michigan Rehabilitation Services Liaison for Washtenaw Intermediate School District. He's a founding member of the Michigan Interagency Transition Team.
Marcelis Turner, of Detroit, is a student at Wayne State University and a former candidate for the state House of Representatives
Don Ufford, of Bloomfield Hills, science and technology policy fellow in the Office of Advanced Manufacturing at at the National Institute of Standards and Technology in the U.S. Department of Commerce. He's also a member of SCORE business mentoring program.
Mai Xiong, of Warren, member of the Macomb County Board of Commissioners and designer and founder of clothing brand Mai&Co.
MPLP requirements, applications and alumni can be found at mplp.msu.edu or by calling MPLP Program Administrator Linda Cleary at 517-353-0891.
Note to media: Complete bios for MPLP 2022 Fellows can be found at https://ippsr.msu.edu/political-leadership/michigan-political-leadership-program-mplp/current-fellows.
All MPLP alumni are listed at https://ippsr.msu.edu/political-leadership/michigan-political-leadership-program-mplp/mplp-leaders-alumni