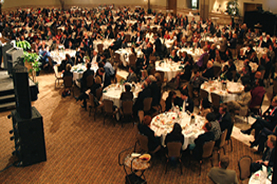 The curriculum incorporates practical politics, public policy analysis and process, personal leadership development and effective governance. Since 1992, nearly 600 MPLP graduates have put the skills and relationships acquired through the program to work in their communities and in statewide office. MPLP Fellows gain the expertise to tackle public policy issues as candidates for office, as government officials or as citizen activists. Most notably, 11 MPLP graduates are now serving in the Michigan State Legislature.
This innovative program is directed by Susy (Heintz) Avery and Steve Tobocman. Ms. Avery has been Chair of the Michigan Republican Party, Executive Director of the Michigan Women's Commission, Director of Travel and Tourism for the State of Michigan along with serving as Director of Public Affairs for Governor John Engler. She has been elected a Wayne County Commissioner and as Northville Township Supervisor. In addition to other roles, she has hosted her own two cable television programs as well as serving as a frequent panelist for various television and radio programs. Mr. Tobocman served in the Michigan House for three consecutive two-year terms (the maximum allowed under Michigan's term limits laws.) He was elected Majority Floor Leader, the second-highest position in the Michigan House, during his third term. Steve Tobocman is the managing partner at New Solutions Group, LLC and currently serves as the CoDirector of the Michigan Foreclosure Task Force, a 200-plus member statewide advocacy organization seeking to help Michigan respond to the foreclosure crisis. Together, Mervenne and Tobocman use their considerable public service and government experience to guide 24 men and women chosen annually to participate in MPLP.
MPLP is a program of the Institute for Public Policy and Social Research (IPPSR) in MSU's College of Social Science. The only bi-partisan public policy and leadership training program in Michigan, MPLP is distinguished as one of only a handful of such successful programs in the nation.