Michigan State University's Institute for Public Policy and Social Research (IPPSR) conducted its final Legislative Staff Training of 2019 for the state's legislative staff members. The Institute offers these trainings three times yearly to give tools to legislative staffers to optimally equipped to serve their constituents. The training is supported with a grant from the W.K. Kellogg Foundation in Battle Creek.
IPPSR Legislative Staff Training on Sept. 13 focused, in part, on the 2020 Census in Michigan and underscored the role that nonprofits statewide are assuming via their Census 2020 Michigan Nonprofits Count Campaign.
To speak to these points and more, IPPSR hosted three experts who are already deep in the 2020 census thicket:
Kerry Ebersole Singh, director of the Michigan Statewide Census.
Joan Gustafson, external affairs officer for the Michigan Nonprofit Association.
Teresa Kmetz, president of the Capital Area United Way.
WHY THE CENSUS MATTERS
Article I, Section II of the U.S. Constitution requires a population count of the U.S. every 10 years to ensure states proportional representation in Congress. While most people don't give the census much thought until reminded "[their] response is required by law,"  the decennial census is the largest peacetime mobilization in our country and exerts widespread influence on the daily lives of citizens long after they are counted. Census data is used to 1) reapportion seats in the House of Representatives, 2) draw federal, state and local legislative district lines and 3) distribute hundreds of billions in federal funds every year.
In 2010, Michigan ranked fifth in the nation for its 78 percent census participation rate. While this high level of participation is no doubt something to be proud of, it does come with a unique set of drawbacks. If the state fails to meet the 78 percent participation rate, it can only result in less representation and less funding for the state. In essence, Michiganders have set a high bar for themselves in 2020.
Michigan is projected to lose one seat as a result of the 2020 census. To illustrate this forecast, Ebersole Singh pointed out that although North Carolina currently boasts a larger population than Michigan, it one fewer congressional seats. To make matters worse, when polled in 2018, fewer Michiganders (67 percent) said intended to fill out the census than they did when polled in 2008 (85 percent). Of course, almost 10 percent of those who planned to fill out the census in 2008 did not carry that intention out in 2010. If this drop-off holds in 2020, fewer than 60 percent of Michiganders will be counted.
Though it seems that forfeiting a congressional seat and a few electoral college votes may be predestined, Michigan has much more at stake — namely millions of dollars in federal funds. In fact, Gustafson reported that conservative estimates show that Michigan stands to lose $1,800 per person, per year for every individual not counted. According to the GW Institute for Public Policy's report Counting for Dollars 2020, during the 2016 fiscal year alone, Michigan received $29,208,978,056 through 55 federal spending programs guided by data derived from the 2010 Census State Budget. The same GW researchers also found a 1 percent undercount in Michigan could cost the state nearly a billion dollars in federal funding over the next 10 years.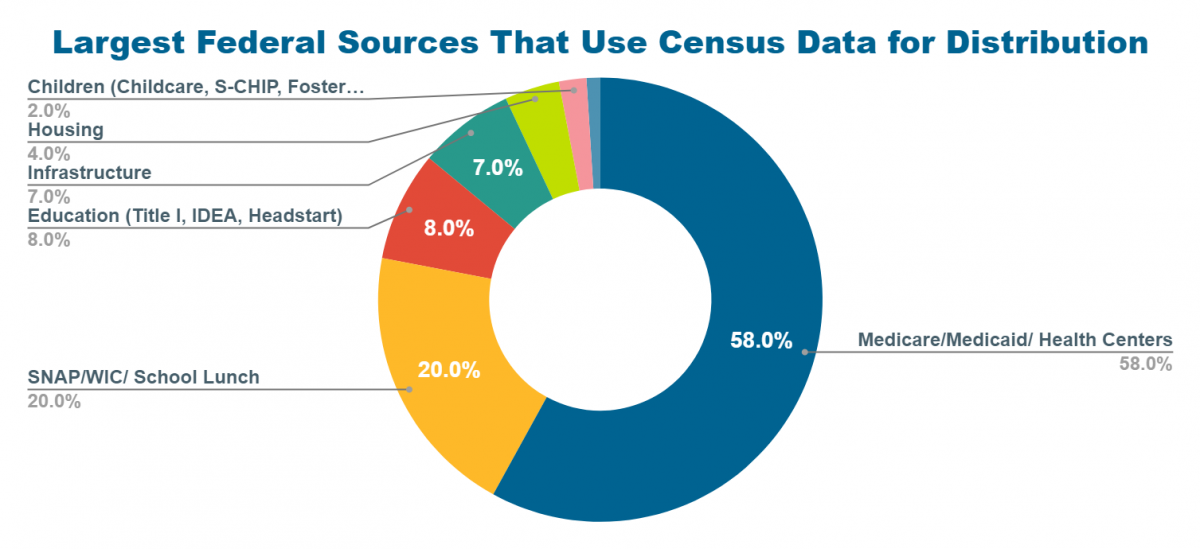 The biggest of these cuts would be felt disproportionately by Michiganders already struggling to make ends meet and those who help them bridge the gaps: nonprofits. Unfortunately, those who benefit most from federal funding are often those least likely to be counted. Census 2020 Michigan Nonprofits Count Campaign has identified the following "hard-to-count" populations:
People of color
Immigrants
Undocumented people
Young children
Low-income people
Homeless individuals
WHY NONPROFITS ARE 'UNIQUELY QUALIFIED'
Kemtz said that nonprofits have a stake in the state census response rate : "For every dollar [Michigan] lose[s], nonprofits are asked to step up and plug the holes." The panelists agreed that nonprofits were 'uniquely qualified' to mobilize the hard-to-count populations listed above. Why? Census 2020 Michigan Nonprofits Count Campaign literature outlines the following reasons:
Located in communities most at risk of being under counted (urban and rural).
Maintain everyday contact and have trusting relationships with the communities they serve.
Manage cultural sensitivities and language needs within their communities.
Nonprofits driven by social missions strive to ensure their communities have access to the funds, services, representations, and physical and social infrastructure affected by the Census count.
Nonprofits are keenly aware of the negative impact an undercount will have on their communities, and that they will need to find ways to make up for the shortfalls.
According to the Census 2020 Michigan Campaign, the census results underrepresent racial minorities, young children, immigrants, and those living in poverty, leading to persistent inequality "political power, government funding and private-sector investment for these communities."
NEW CHALLENGES & NONPROFITS' PLAN TO RISE TO THEM
After conducting the costliest census in U.S. history in 2010, the U.S. Census Bureau is cutting costs this time around to the (hopeful) tune of $5.2 million.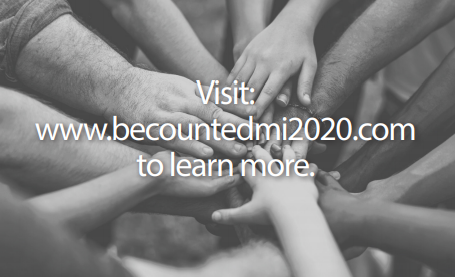 Digitizing is playing a critical role in the cost reduction. For the first time ever in the nation's history, the 2020 Census will be asking most people to answer online instead of via U.S. Mail. Of course, cybersecurity threats notwithstanding, potential risks to exacerbating undercounting already hard-to-count populations have been voiced.
In another cost-cutting move, the Census Bureau has cut 50 percent of its regional Census Bureau Offices. The compounded effect of drastically reducing regional offices and shifting to online form submission will likely disproportionately affect low-income and rural communities.
In response, the Census 2020 Michigan Nonprofits Count Campaign was launched by the Michigan Nonprofit Association (MNA) with funding from the W.K. Kellogg Foundation and support from the Council of Michigan Foundations (CMF). They aim to "mobilize nonprofits and partner with state and local government to encourage participation in the census in communities that are at significant risk of being undercounted."
They have linked in a campaign that has identified 13 nonprofit census hubs which will engage local leaders, develop a plan for the county/ region, award mini-grants to area local nonprofits, and share valuable census outreach resources with their respective communities. The chart below provides a more in-depth look at the campaign's framework. The underpinning of the entire campaign is that historically undercounted groups interact, if not trust, their area nonprofits more than they do formal government structures.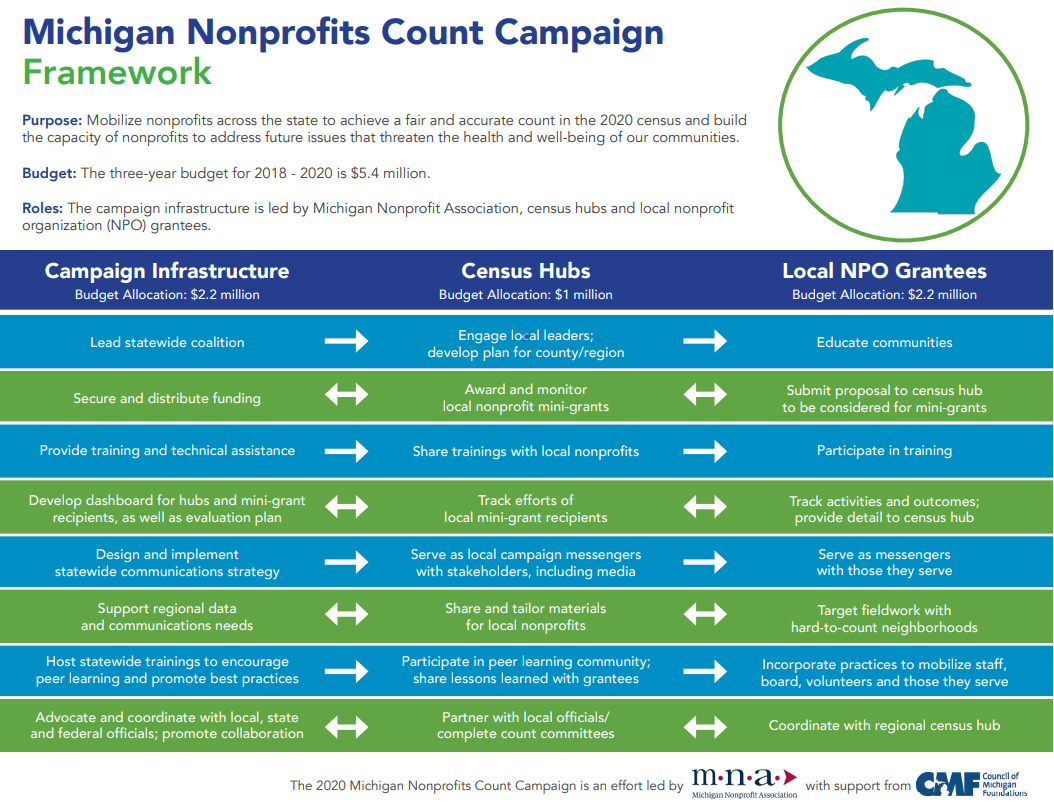 Ebersole Singh,Gustafson and Kmetz urged all Legislative Training attendees to check out www.becountedmi2020.com for more information on the 2020 Census and for resources on how they can ensure that all Michiganders are heard and counted. "If we work together, Michigan stands a chance of having one of the best success participation rates in the nation," Kmetz concluded.