Two leading political strategists who've advised presidential campaigns are headed to Michigan State University's Michigan Political Leadership Program's 2019 dinner and breakfast fundraisers.
GOP media consultant Alex Castellanos and Democratic political organizer Patti Solis Doyle will headline MPLP's 24th annual fundraising dinner in suburban Detroit and 17th annual fundraising breakfast in downtown Grand Rapids.
Dinner's set for Thursday, March 7, 2019 at 6 p.m. and breakfast follows the next morning on Friday, March 8, 2019 at 7:30 a.m. Reserve tickets, tables and sponsorships online.
The events serve as a graduation for the Michigan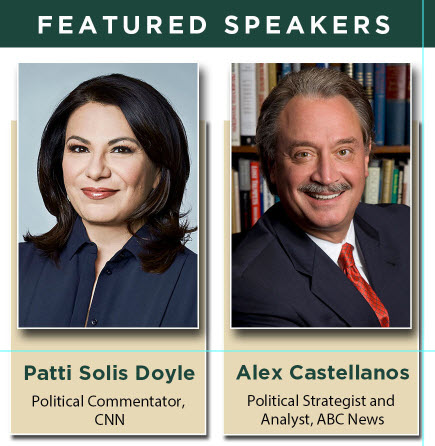 Political Leadership Program's 24 Fellows and a homecoming for Michigan Political Leadership Program's 600-plus alumni. They are open to the public and annually bring two nationally known speakers – one Democrat and one Republican -- for entertaining events of questions and answers.
MPLP's dinner venue shifts this year to the Suburban Collection Showplace in Novi, outside of Detroit. Breakfast takes place at the JW Marriott in Grand Rapids.
Event tickets are available at mplp.msu.edu.
"Alex Castellanos and Patti Solis Doyle are thoughtful and insightful insiders," said Arnold Weinfeld, interim director of MSU's Institute for Public Policy and Social Research where MPLP makes its campus home.
"We are excited to have speakers with experience at the center of national campaigns, especially as Michigan elects a new governor and the nation looks to the 2020 national elections," he said.
Castellanos has served as communications consultant to seven U.S. presidential campaigns. He is co-founder of Purple Strategies, a strategy firm advising brands and politics, and an ABC News contributor. See his biography.
Solis Doyle was the first Hispanic woman campaign manager for a presidential candidate, leading former Sen. Hillary Clinton's bid for the nation's highest elected office. She is a CNN political commentator. See her biography.
MPLP offers 10 months of specialized training in personal leadership, policy analysis and good governance. MPLP Fellows meet for weekend sessions once each month, touring communities and organizations, debating compelling policy issues and learning leadership skills in a bipartisan environment.
The program dates to 1992, as term limits appeared on Michigan's horizon. MPLP founders sought to build leadership talent and strength to seek the state's highest offices. Since then, more than half of MPLP Fellows have been appointed to office or have successfully run for public office.
MPLP alumni call the experience "life changing" as they put their skills to work in offices ranging from tribal leader, to federal agency appointee to state House of Representatives, Michigan Senate, school board, township trustee and precinct delegate. Eleven now serve in the Michigan Legislature, four in the state Senate and seven in the state House.
Among notable alums are House Minority Leader Sam Singh, former Michigan Department of Agriculture and Rural Development Director Jamie Clover Adams, former House Speaker Craig DeRoche, former House Minority Leader Tim Greimel, former state Sen. Wayne Kuipers, former state School Superintendent Tom Watkins, former Detroit Mayor Ken Cockrel Jr and Macomb County Executive Mark Hackel.
MPLP advances public service opportunities. MPLP alumni are more likely to run for public office, and more likely to win, research shows.
A record number of MPLP alumni are seeking congressional, statewide and judicial leadership posts in Tuesday's primary vote, hoping to advance to the November election. Scores more are seeking re-election or a new nod in local races across the state.
MPLP is a bipartisan program, seeking 12 Democrats and 12 Republican Fellows each year. Fellows represent equal numbers of men and women and come from demographically diverse sections of the state and its citizens.
Applications for the MPLP Class of 2019 are available at mplp.msu.edu. Applicants are asked to submit a written applications and letters of recommendations. Applications are due Friday, Sept. 28, 2018 and selected MPLP Fellows will be announced by mid-December.
MPLP is lead by a Democrat and a Republican, former state House Majority Leader Steve Tobocman and former state Republican Chair Susy Avery.
"We are seeking MPLP Fellows who are truly dedicated to public service, who want to create excellence in their communities and their organizations and who are open to new and challenging experiences," Tobocman said. "Our MPLP Fellows come from Michigan's largest communities to its smallest and include teachers, military service men and women, students, legislative aides and people from all occupations."
Dinner includes graduation ceremonies for the MPLP Fellows in the Class of 2018. "It's always an exciting and bittersweet end to a year of building relationships and experiences," said Avery. "Both events attract a who's who in Michigan politics and are a nonstop networking opportunity for those who are interested in policy, politics and potential leadership opportunities."
MPLP makes its home at IPPSR alongside the State of the State Survey, Office for Survey Research, Public Policy Forums, Legislative Leadership Program, State of the State Podcast and Correlates of State Policy research database showcasing policy changes across time in all 50 states. IPPSR is an institute within MSU's College of Social Science.
Buy MPLP event tickets online at https://ippsr.msu/edu/mplpevents
See MPLP Events at http://ippsr.msu.edu/political-leadership/mplp-events
Follow Castellanos – who describes himself as "Cuban, American, cigar-smoker, freedom loving conservative, w/ABC News, co-founder of Purple Strategies. Lucky guy" -- @alexcast on Twitter.
Follow Solis Doyle @PattiSolisDoyle on Twitter. She denotes herself as ".@CNN Political Commentator: President, Solis Strategies; Political Junkie; Proud Latina & Mom; and increasingly Concerned Citizen.
Click here for Castellanos high resolution photo (.jpg)
Click here for Solis Doyle high resolution photo (.jpg)