Michigan State University's Michigan Political Leadership Program, a groundbreaking program, broke new ground yet again on Oct. 1.
"For the first time ever, we hosted our annual fundraiser virtually," said Susy Avery, Michigan Political Leadership Program (MPLP) co-director.
The 2020 MPLP fundraiser welcomed featured speaker Larry Sabato from his post as founder of the University of Virginia Center for Politics. "And we welcomed our guests from virtually, and safely, from across the state,"  said MPLP Co-Director Steve Tobocman.
The event will also feature a tribute to MPLP's 30th Class of MPLP Fellows – dating to 1992 – and the 2019 MPLP Fellows, said political scientist Matt Grossmann, director of MSU's Institute for Public Policy and Social Research. IPPSR, a unit of MSU's College of Social Science, is the academic home for MPLP.
"MSU and MPLP are supporting a healthy and engaged experience for students, our MPLP Fellows, alumni and supporters," Grossmann said.
Sabato is a New York times best-selling author, has won four Emmys and is recognized as one of the nation's most respective political analysts.
He appears regularly on national and international TV, including FOX, CNN, MSNBC, and CNN International. He is founder of the highly regarded and widely followed Sabato's Crystal Ball, a nonpartisan political analysis and handicapping newsletter.
He was paired with emcee Tim Skubick, a Capitol veteran, statewide celebrity newscaster,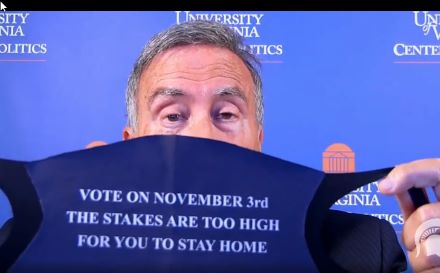 and anchor and producer of WKAR-TV political favorite Off the Record broadcast weekly.
While this year's annual event has concluded, there's always time to support MPLP.
MPLP is known as one of the nation's foremost programs for training those aspiring to elected political office and community or organization leadership positions. It offers selected Fellows 10 months of specialized training in personal leadership, policy analysis and good governing skills.
More than half of the nearly 700 MPLP alumni currently serve – or have served – in elected or appointed office. Currently, 17 MPLP alumni serve in the Michigan Senate and House of Representatives. Scores more serve in local precinct, school board, township, city, county and village positions across Michigan.
MPLP is always happy to answer questions about applications for its 24-member classes. Applicants must be 21-years-old, a registered voter and available to take part in all MPLP sessions. This year's deadline was Friday, Sept. 11, 2020. Please see applications at http://bit.ly/MPLPApply. You may also contact MPLP Administrator Linda Cleary at clearyl@msu.edu.