In the years since the The Great Recession and Detroit's declaration of bankruptcy, as the American and world economies have slowly but steadily recovered, a dominant narrative about the city has come to the fore. It can be found in Fortune, NPR, The New York Times, National Geographic, The Wall Street Journal, and countless other respected publications, and in headlines it invariably reads like this: Detroit is coming back. Undoubtedly, economic conditions in the city are better than in the years of the Recession or those leading up to it; however, this is not nearly the whole story. In reality, the "comeback" those in the media have so desperately attempted to portray is sheer stratification, the fracturing of the city into "two Detroits" - one that is being dispossessed and one that is gentrifying.
In this installment, the fifth of six segments, I'll break down the processes of urban renewal and eminent domain,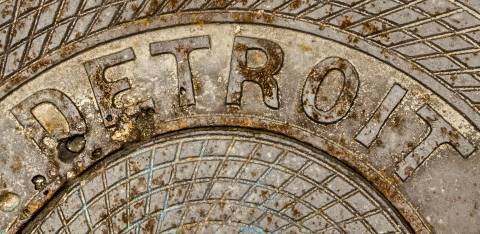 discuss their secondary impacts on the peripheral neighborhoods within Detroit, and expose the role these phenomena play in dispossessing the city's underclass en masse.
Despite the positive connotation the word "renewal" carries, the same cannot be said for the process of urban renewal. Historically, it has been invoked in anti-blight campaigns launched by major cities. Instead of clearing blight, though, these campaigns frequently rid major urban locales of their residents of color, particularly the poorest among them (Pritchett 2003). In order to do so, the governments of large municipalities can turn to the power of eminent domain, which affords them the right to take one's private property in exchange for "just compensation," although the the power is supposed to be limited to purchasing land that will be used for a public good (according to the Michigan Supreme Court's 2004 holding in Wayne County v. Hathcock) (Redfern, 2017). Taking land for the benefit of private corporations, such as when Detroit bought up Poletown and sold it to General Motors in the 1980s, is in my view a highly questionable use of such authority. Now, as extraordinarily wealthy real estate investors buy up cheap land in the middle of the city, the powers of eminent domain are being used once again to clear out the periphery. Despite a legislatively referred constitutional amendment meant to curtail eminent domain in Michigan that was passed in 2006 ("Michigan Eminent Domain Restriction, Proposal 4" 2009), recent years have still seen residents in Detroit's far east and west neighborhoods be forced to choose between selling their property to speculators or facing the prospect of the city taking it for less (Loyola University Chicago 2016).
Meanwhile, just like those displaced, those who remain face the grim reality of losing their community and the social infrastructure they relied upon. While downtown Detroit continues to gentrify (Murray 2018), those living on its periphery -- such as the residents of city neighborhoods known as Fitzgerald, Osborn, North End, and more -- are constantly at risk of having their family home swept up by investors capitalizing on low land prices. In turn, these working class residents see friendships, partnerships, and other relationships that sustained the community and kept the most vulnerable safe and healthy disappear overnight, a loss of social cohesion and familiarity that has already proved deadly in Chicago (Klinenberg 2002). This relational dispossession is the secondary impact of urban renewal, and it leaves Detroit's declining population of residents as the collateral damage in an en masse system of housing dispossession. As the homeowners of this second and forgotten Detroit, these residents have seen their government prioritize the attraction of private capital over their right to remain in the communities they call home (that is, their right to be Detroiters) ("Public Power, Private Gain: Michigan," 2002). Consequently, even against the more recent Supreme Court decisions and constitutional amendments, the economic opportunities working class Detroiters are promised by such land grabs never seem to trickle down, but the concentration of property and wealth certainly trickles up.
Works Cited
Klinenberg, Eric. Heat Wave: a Social Autopsy of Disaster in Chicago. The University of Chicago Press, 2003.
"Loyola University Chicago." Detroit, MI: Community Uprooted: Eminent Domain in the U.S.: Loyola University Chicago, www.luc.edu/eminent-domain/siteessays/detroitmi/.
"Michigan Eminent Domain Restriction Amendment, Proposal 4 (2006)." Ballotpedia, ballotpedia.org/Michigan_Eminent_Domain_Restriction_Amendment,_Proposal_4_(2006)
Murray, Sarah. "Detroit Juggles Gentrification and Regeneration." Subscribe to Read | Financial Times, Financial Times, 12 Sept. 2018, www.ft.com/content/11d45cc8-89e5-11e8-affd-da9960227309.
"Public Power, Private Gain: Michigan." The Castle Coalition, castlecoalition.org/public-power-private-gain-michigan.
Pritchett, Wendell E., "The "Public Menace" of Blight: Urban Renewal and the Private Uses of Eminent Domain" (2003). Faculty Scholarship at Penn Law. 1199.
Redfern, Jeffrey. "Column: Eminent Domain Won't Bring Back Motown." Detroit News, DetroitNews, 6 Nov. 2017, www.detroitnews.com/story/opinion/2017/11/05/eminent-domain-detroit-dugg....
Troy Distelrath is an undergraduate IPPSR Policy Fellow pursuing an academic career in public policy.