The Michigan House Appropriations Committee recently began reviewing HB 5118, a bill that would amend Section 308 of the Michigan Mental Health Code to modify how the Department of Health and Human Services (MDHHS) funds the community mental health boards (CMHs) in Michigan. This bill would replace the old funding model, which is based on historic costs and CMH funding requests, with a model that bases funding solely on demographics including unemployment rates and poverty levels.
The bill, sponsored by Rep. Aaron Miller, R- Sturgis, has drawn some criticism for removing funding from some of Michigan's largest counties. Wayne, Oakland and Macomb counties are the most populous counties in the state and take up most of the CMH funds allocated. Currently, Wayne County uses 33 percent of the funds, Oakland uses 10.6 percent, and Macomb uses 6.7 percent. These three counties total a use of 50.3 percent of MDHHS funds, leaving the other 80 counties the rest. However, these three counties' populations total to almost four million people out of the approximately 10 million residents of Michigan.
If the bill passes, the funding model would no longer consider historical need,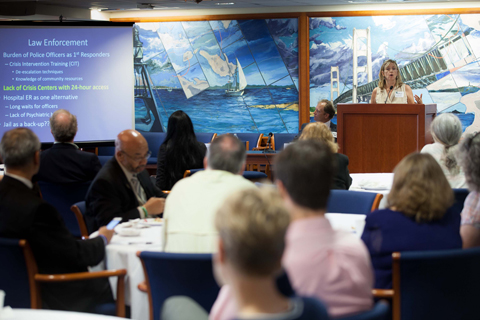 which could cause trouble for districts that have historically had high rates of mental illness. The current CMH funding model is about 50 years old, which could mean it is time for an update in policy. Though this bill could bring positive change to the CMH funding model, there have been concerns about whether the new amount of funding for Michigan's largest counties will be enough to offer quality care for patients in need.
IPPSR's Sept. 9 Public Policy Forum focused on mental health questions, including current funding arrangements and accessibility, and photos on this page are from that event. The photos feature Sheryl Kubiak, MSU professor of social work, and Joseph J. Ruth, executive vice president and chief operating officer of Sparrow Health System. See speaker information, presentations and a video from the Public Policy Forum on Access to Mental Health Care.
By basing the funding solely on demographics, the state will no longer receive feedback from CMHs through requests for funding. Instead, opponents of the bill argue, counties may find themselves turning more people away from mental health services without the option to request more funding to treat them. This means that the three counties that have used the lion's share of the funding in the past may be shortchanged in the future. There have been suggestions to cut funding for other health programs to make up for the difference, but this change would leave those programs without necessary funding as well. This legislation is desig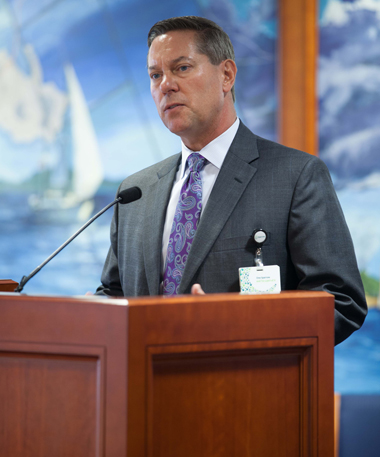 ned to drive mental health funding away from metro Detroit counties and into the rest of Michigan. While this would benefit the rest of the state, the impact in metro Detroit counties  would be severe as it is the area in Michigan in most need of these CMH funds.
Offering quality mental healthcare to patients in need is a top priority that is addressed in this bill. The question now is how the state chooses to balance large counties in need of funds and the needs of other, less densely populated counties. Legislators are tasked with solving how to divide a limited amount of funds among Michigan counties that are all in great need. For now, the bill sits in the House Appropriations committee, and will see more hearing and testimony in the coming weeks.
Sources:
http://www.legislature.mi.gov/(S(2fj0fa1kinra1etccpeuclkh))/mileg.aspx?page=GetObject&objectname=2015-HB-5118
https://mirsnews-com.proxy1.cl.msu.edu/capsule.php?gid=4919#47866
http://gophouse.org/st-joseph-officials-testify-rep-millers-cmh-funding-bill/