In Michigan's Nov. 6, 2018 General Election, voters approved an initiative establishing an independent commission to redistrict congressional, state Senate, and state House of Representative districts with each new U.S. Census.
The initiative minted Michigan as the seventh state to establish an independent commission which, prior to 2018, was a power held by Michigan's Legislature. Critics were concerned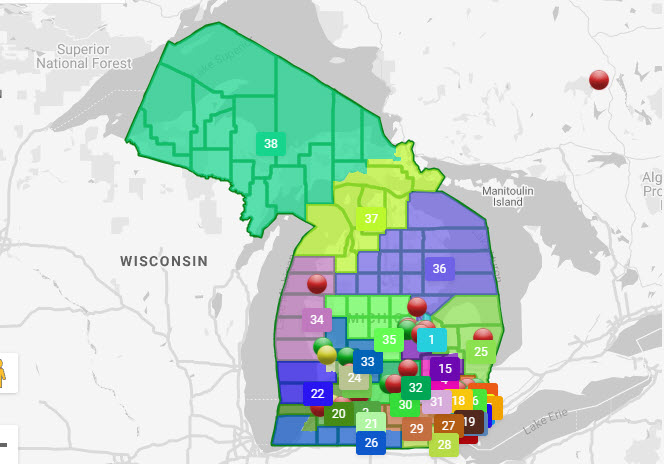 that the majority party in the legislature gerrymandered the districts -- the process of tailoring the boundaries of a district to favor one party over another. Critics further argued that these gerrymandered districts ignored Michigan's distinct communities and disadvantaged minority voters.
Voters approved the Voters Not Politicians' proposal establishing the Michigan Independent Citizens Redistricting Commission, a group of 13 registered voters randomly selected from a qualified pool of applicants -- four of them are Democrats, four are Republican, and five are independents. The Commission is tasked with drawing the maps that will divide the state into 13 congressional and 148 state legislative districts – 110 Representatives and 38 Senators. At the same time, the Commission must adhere to seven criteria written into the constitution for the 2022 election cycle, including the August 2 primary and the November 8 presidential midterm elections. Michigan has been a crucial swing state in the last three elections, and any changes to its status as a swing state could change the political environment for future federal and national elections.
The seven criteria the Commission must abide by are ranked and are as follows:
Districts shall be of equal population as mandated by the United States constitution and shall comply with the voting rights act and other federal laws.
Districts shall be geographically contiguous. Island areas are considered to be contiguous by land to the county of which they are a part.
Districts shall reflect the state's diverse population and communities of interest. Communities of interest may include, but shall not be limited to, populations that share cultural or historical characteristics or economic interests. Communities of interest do not include relationships with political parties, incumbents, or political candidates.
Districts shall not provide a disproportionate advantage to any political party. A disproportionate advantage to a political party shall be determined using accepted measures of partisan fairness.
Districts shall not favor or disfavor an incumbent elected official or a candidate.
Districts shall reflect consideration of county, city, and township boundaries.
Districts shall be reasonably compact.
The public has been involved during this process engaging in public comment sections and with the media surrounding the MICRC. This is as designed by the law the Voters Not Politicians initiative established and is a key element in the new redistricting process. I think it is important to remember that, with any institutional change, there will be growing pains. Establishing an independent commission doesn't instantly solve the problem, in fact it creates many conundrums. By definition, an independent commission is held to a separate process outside of more established ones in the legislature. The Commission is held to the above criteria written into the Michigan Constitution without much direction as how to implement them, and with few examples to follow. The public should be aware and embrace the dialogue while continuing to speak up. If the public doesn't continue to be involved in the process and, instead, stays at a distance from the process, that distance may help to delegitimize the Commission before it has the chance to execute its mission: independently redistrict Michigan's political boundaries outside of partisan control.
During and after the Commission's map-drawing process, Michigan State University Economist Jon Eguia, a preeminent professor well published in academia's top political science and economics journals, in conjunction with other experts in the field are tasked with creating computational tools to evaluate the MICRC's adherence to these seven criteria. These tools range from simple overlay-comparisons of the current electoral map and proposed maps to advanced quantitative analysis to rate each district and each map in their effective adherence to the criteria. The team operationalized the criteria in accordance to what is intended in the language of Michigan's constitution and is due soon to report how much each map deviates from the best case scenario for each criterion. This analysis, under a grant from The Joyce Foundation, is historic and will determine whether the Commission's map executes the goal of Voters Not Politicians, which designed the constitutional initiative that created the Commission, and its effect on Michigan's elections for the next decade.
In mid-September, the MICRC published its first draft of its new state Senate district redistricting maps. These maps have given us some insight into the Commission's direction. The MICRC has placed an emphasis on compactness and keeping communities of interest whole. Wayne State University Professor Hayg Oshagan, during a webinar hosted by CLOSUP and IPPSR, said he is grateful that the Commission has taken into account the voices of members of communities of interest. He later states that the Commission has "met his expectations" in taking into account communities of interest during the redistricting process.
Members of these communities have answered numerous surveys and submitted their own maps of the boundaries of their community of interest. Additional criteria asks that districts not lean to one party or the other and that incumbents not be advangageed or disadvantaged. The MICRC draft Michigan Senate map keeps Michiganders who live on the shores of the five Great Lakes together, while making many changes to existing boundaries in the state's interior, most notably, counties west of Detroit and downriver. None of the districts in these locations bear resemblance to maps drawn in previous redistricting efforts.  The draft districts are much more compact and squarer in shape except for District 3. That west Michigan Senate District, which includes all of Van Buren and parts of Kalamazoo counties, wraps around the city of Kalamazoo's District 21. By and large, however, most other districts exhibit far fewer appendages and elongations.
The Commission has emphasized that that this first draft is not final and that much of its work is subject to change. However, in my analysis, this first draft is indicative of what the commission is likely to emphasize in final maps, see the commission's timeline, due to take effect for the 2022 elections.
Nick Pigeon is a Master of Public Policy candidate at Michigan State University and an IPPSR Public Policy Graduate Fellow. He is a campaign veteran who has helped elect candidates up and down the ballot at the local, state, and national level.