Tue, 03/09/2021 - 10:25am

—
The Problem
Covid-19's march across Michigan – and around the globe – is raising the fear of increasing mental illness, especially among pupils in our K-12 schools. Mental illness in children between the ages of birth and 17 is estimated to be around 16.5% according to a study referenced in the National Health Interview Survey by the CDC in 2019.[i]  The prevalence quartile of child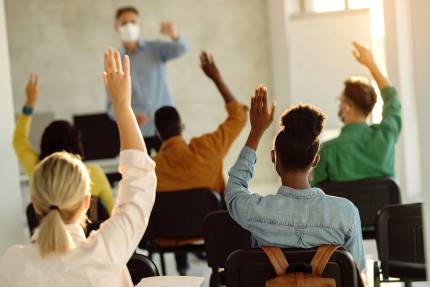 ren in Michigan with mental illness is between 15.3% and 17.7%, the same article estimates. The Michigan Legislature has the opportunity to take a leadership role in addressing this complex problem. Early interventions are proven to save taxpayers money on later health costs for treating those with mental illness.[ii] Estimates suggest these numbers will increase in the coming years, thus a quick review of the role schools can play in offering coordinated care to children living with mental illness can be helpful.[iii]
The Role of School Professionals
Three types of school professionals support students on their mental health journey.
School counselors help students strive for academic and career success.[iv]
Social workers' role in the school is working to enhance the emotional wellbeing of students as well as their academic performance. [v]


Social workers with appropriate backgrounds can diagnose mental illness.

Some schools may also have trained psychologists who have an advanced degree along with practical experience working with patients.
Many students are forced to navigate their academics at school while also facing mental illness. The American Civil Liberties Union (ACLU) recommends school professional staffing.[vi] Michigan, along with more than 40 other states, does not meet ACLU staffing guidelines. Based on 2015-16 school data, the ACLU found:
Approximately 1.5 million students enrolled in schools.
Michigan schools employed 4,305 counseling professionals. The following chart highlights the recommended ratios and actual ones in Michigan.

Past Solutions
Schools are working now to find more mental health professionals to make sure schools meet recommended guidelines. However, the pool of candidates is not large enough to accommodate needs for all schools[ix]. In order to provide more insight, we will examine some of the legislature's past responses.
 A 2013 state Mental Health and Wellness Commission report found gaps in the state's ability to meet the needs of children and other mentally ill individuals.[x] The state sent a request to expand its school Medicaid program in 2018. The expansion was approved in the latter half of 2019.[xi] This step allowed for schools to seek reimbursements for services provided to Medicaid eligible students. The state also recently approved $36.9 million – a $5.6 million increase -- for schools to connect students with mental health professionals.[xii]
School mental health funding for the 2020-2021 school year is $36.9 million dollars compared to the previous fiscal year's $31.3 million dollars. [xiii] The state Senate also introduced a bill in 2019 to require mental health training for all Michigan teachers. The legislation failed to pass.  
Future Hope
Additional funding to hire more professionals may offer hope for future solutions. However, there is a shortage in personnel nationwide.[xiv] Michigan needs to take quick action to address this issue of staffing shortages. One solution: extend more college grants for students who major in social work and work in public schools. The rising cost of higher education, along with the hurdles that applicants must jump through to be eligible for federal student loan forgiveness, has made it difficult for graduates to keep up with their student loan payments and persuaded others not to seek higher education.[xv][xvi] By creating more opportunities for students to forgo debilitating of levels debt to finish college, the state could increase the amount of counseling professionals. The state could also establish its own program to forgive student loans for individuals who work in state mental health roles, incentivizing students to choose this profession and support students in school.
The conversation about mental health in schools is complex and requires multiple solutions. The following actions may help strengthen mental health services in Michigan schools.
Provide schools with more funding to hire more mental health professionals.


The 2019 Elementary and Secondary School Counseling Act would have provided $5 billion for all schools.[xvii]

Provide more grants and scholarships for students seeking to major in mental health disciplines and work in schools.[xviii][xix]
Educate students about the Michigan Student Loan Repayment Program and ensure that available funds available are utilized.[xx
Bibliography
2019FSAConfSession18.Pdf. https://fsaconferences.ed.gov/conferences/library/2019/2019FSAConfSession18.pdf. Accessed 19 Jan. 2021.
030419-Acluschooldisciplinereport.Pdf. https://www.aclu.org/sites/default/files/field_document/030419-acluschooldisciplinereport.pdf. Accessed 23 Jan. 2021.
Blog, N. S. C. "Fall Enrollments Decline For 8th Consecutive Year." Clearinghouse Today Blog, 16 Dec. 2019, https://www.studentclearinghouse.org/nscblog/fall-enrollments-decline-for-8th-consecutive-year/.
"CFPB Monthly Snapshot Spotlights Student Loan Complaints." Consumer Financial Protection Bureau, https://www.consumerfinance.gov/about-us/newsroom/cfpb-monthly-snapshot-spotlights-student-loan-complaints/. Accessed 19 Jan. 2021.
CommissionReportFinal1212014_445161_7.Pdf. https://www.michigan.gov/documents/mentalhealth/CommissionReportFinal1212014_445161_7.pdf. Accessed 13 Feb. 2021.
Disorders, Institute of Medicine (US) Committee on Crossing the Quality Chasm: Adaptation to Mental Health and Addictive. "Coordinating Care for Better Mental, Substance-Use, and General Health." Improving the Quality of Health Care for Mental and Substance-Use Conditions: Quality Chasm Series, National Academies Press (US), 2006. www.ncbi.nlm.nih.gov, https://www.ncbi.nlm.nih.gov/books/NBK19833/.
Fact Sheet: The Cost Benefits of Early Intervention in Mental Illness." Steinberg Institute, 22 Aug. 2017, https://steinberginstitute.org/press-release/fact-sheet-cost-benefits-early-intervention-mental-illness/. 
FY 2020-21 SCHOOL AID BUDGET. https://www.senate.michigan.gov/sfa/Departments/HighlightSheet/HIk12_web.pdf. Accessed 5 Feb. 2021.
"How Michigan Is Expanding Access to Mental Health Services | Healthy Schools Campaign." Healthy Schools Campaign | Helping Children Learn and Thrive, https://healthyschoolscampaign.org/blog/how-michigan-is-expanding-access-to-mental-health-services/. Accessed 5 Feb. 2021.
MDHHS - Michigan State Loan Repayment Program Overview. https://www.michigan.gov/mdhhs/0,5885,7-339-71551_2945_40012-135399--,00.html. Accessed 13 Feb. 2021.
"Mental Health Impacts In Schools." Child Mind Institute, https://childmind.org/awareness-campaigns/childrens-mental-health-report/2016-childrens-mental-health-report/mental-health-impacts-in-schools/ Accessed 28 March. 2022.
Merkley, Jeff. Text - S.3427 - 115th Congress (2017-2018): Elementary and Secondary School Counseling Act. 12 Sept. 2018, https://www.congress.gov/bill/115th-congress/senate-bill/3427/text. 2017/2018.
"National Student Loan Default Rate [2021]: Delinquency Data." EducationData, https://educationdata.org/student-loan-default-rate. Accessed 5 Feb. 2021.
School Counselor Roles & Ratios - American School Counselor Association (ASCA). https://www.schoolcounselor.org/About-School-Counseling/School-Counselor-Roles-Ratios. Accessed 5 Feb. 2021.
Social Workers in Schools (Kindergarten through 12th Grade). https://www.socialworkers.org/LinkClick.aspx?fileticket=vvUJM-JNAEM%3D&portalid=0. Accessed 5 Feb. 2021.
Whitney, Daniel G., and Mark D. Peterson. "US National and State-Level Prevalence of Mental Health Disorders and Disparities of Mental Health Care Use in Children." JAMA Pediatrics, vol. 173, no. 4, American Medical Association, Apr. 2019, p. 389. www.ncbi.nlm.nih.gov, doi:10.1001/jamapediatrics.2018.5399.
---