The decision to travel to Washington D.C. was easy. I want hope in my future. I want to be heard; not talked over, or about, by men. I marched for my niece and her right to become anything she wants to in life. I marched for equal pay and the right to make my own decisions. I marched for all the required meetings where I listened to men's agendas and was interrupted and excluded. I marched for everyone who feels they don't have a voice because of someone else's privilege.
As I watched a man "cut" to the front of a long line of women waiting to exit a building in D.C., simply be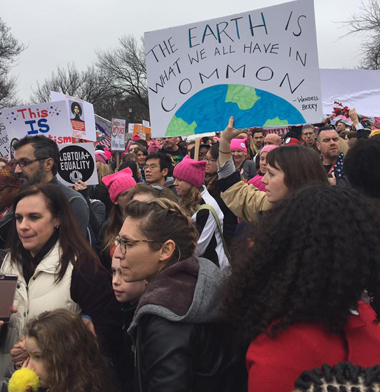 cause he could, it was apparent on January 21st, 2017, we are still living in "their" world. The world we live in has rules and norms that have been enforced and handed down from people who aren't "us."
Today is another new day. It's a day to love one another, to work for equality and truly change the world. Hillary Clinton said it best, "Every moment wasted looking back keeps us from moving forward." There's no time to waste.
+++
As a busload of women left Michigan and traveled to D.C., I learned one of the travelers, Connie, had been protesting since the Vietnam War. The Women's March was her next destination and the opportunity to be heard. Another woman had flown overnight at great expense from California; another from Alaska. I was surrounded by 36 women who are more like me than I could have thought possible. All with our own stories to tell.
Activists have been telling us we have all the power we need to make a change. The Women's March showed me the truth in this statement because yesterday, I experienced it. I believe in the adage, actions speak louder than words, and the Women's March was the day we acted in a way that ensured the world heard our voice; with love, power and history on our side.
+++
As we arrived to D.C. and began walking from RFK Stadium to the Mall, there was no cell service. We knew the March started at 1 p.m., but no one had a concrete agenda of what to expect. We decided to go with the flow and enjoy the moment. As marchers started to collect around the Capitol in the morning, we were given directions to go behind the stage and around to arrive at the front of the stage. Walking together, some hand in hand or arm in arm, thousands upon thousands of people streaming in a general direction up each street heading west from the Capitol.
When we couldn't reach the stage because of the sheer numbers, no heated words were exchanged or pushing or shoving occurred. The marchers were all in it together. We received a text message from family that about 500,000 marchers were present and had overwhelmed the parade route. The police had made narrow corrals from yellow caution tape expecting a crowd of 200,000 people. We started snaking down every street toward the Washington Monument.
During the march, I looked around me. I saw the clever messages, women, and their supporters. I saw my people almost as if for the first time in a new way. I was looking through generations of women and what it had taken to bring us to this place, this moment. The woman around me were all shapes, colors, sizes a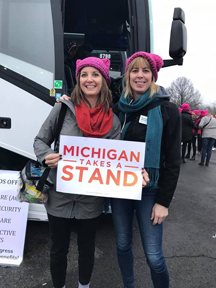 nd it was beautiful. Some looked like me and many didn't. I reflected on how my privilege has affected others. The march allowed me a rare chance to think through my life experiences, history, women and try to find meaning through observing others.
It was the very first time I experienced working together to push progress forward for all women. Recently, I had been reading about the Suffragettes and their successful efforts to get the 19th Amendment passed giving women the right to vote. A few women wore historical Suffragette clothes at the march and I smiled as they passed me – now understanding the relevance of this day. The costumes reflected my grandma's era and I wondered if she'd be here marching today if she was still alive.
Women owned this day. We knew it was ours and why we were all here, even though our reasons varied. It was eye opening and inspiring, and I felt a sense of belonging and happiness.
Something had been missing all these years for me. I remember in middle school where I sat through history classes that didn't include women in textbooks. I knew it was wrong, even as a young girl, and it made me mad and frustrated. The few women I do remember that were discussed were minor characters such as seamstresses like Betsy Ross. While these women played an important part of history, it couldn't have been all that we contributed, could it? Deep down inside I knew it wasn't true. I sulked through year after year of classes not engaged, not caring; this became my first lesson on how white boys were the entitled few. Our U.S. history had been written to serve them.
I saw women for all the wonderful things I knew we were. We were acknowledged, instead of stifled and beat down under the environment of misogyny and big egos. We have been taken out of positions of power so that there was more of it for others and less for us. We are seamstresses, tech leaders, activists, community leaders. The seamstresses were with us today – these women knitted our hats with yarn infused with power and love. We didn't wear hats made in China that were made to fit a man's head. We handcrafted our own and named them "pussyhats."
My sister exclaimed she had heard the word pussy said more times in one day than her whole life. It's shocking when you think about it. Why not take back a negative slang name to make it ours, to say it out loud, to get rid of shame it was supposed to represent? Check that off the list. Now I understand why seamstresses are powerful too and why my Grandma had tried to teach me how to knit.
"Never underestimate the power of a woman." – Nellie McClung
It finally started to dawn on me that all of us were marching. We had become the activists that were cut off from the world because we couldn't get a signal, unknowing a world event was occurring and we were a part of it. Some of the marchers had been activists for years, and others like me, are new to protest so we were a little unsure of how an event like this worked. I pulled out my map and tried to figure out which way to go as the streams of marchers kept on going as we headed toward the start of the march – on Independence Avenue. If ever there was such an appropriately named road.
The march was informal, wandering and peaceful. The signs we carried shared our most important beliefs and we found comfort in them. At first I was startled at how bold the marchers' messages were, but I slowly began to understand, it's our right to free speech and we were here on very serious business. We've been suppressed for so long it feels like retraining ourselves to be our own advocates.
See Emily's Facebook videos when the march was underway and at arrival with the Capitol in view:
https://www.facebook.com/1340694931/videos/10212017790063656/
http://www.facebook.com/1340694931/videos/10212015306681573/
Just who are we? We are the people who care about others, the planet, human rights, and equality. We want people to be who they are, love who they love, and live our lives in a way that is free from undue burdens that others feel the right to place on us. We believe in a child's right to education, healthcare and a safe place to sleep at night. We believe the world should evolve to become more fair and more just; for all.
Our supporters held our hands and supported our journey. I saw a young couple who had to be in their mid-20s. They were laughing and happy. The young man was at ease and enjoying the day immensely. One dad that stuck out in my memory was talking out loud about his daughter fast asleep in her stroller. He pronounced, "I guess she's had all the social justice she can take today." This is where it begins – by participating in equity events and discussions early and often enough that it doesn't have to be learned, but it becomes the fabric of who we are as humans.
+++
What have I learned? A few women had an idea that we could peacefully assemble the day after the inauguration. (I'm happy to report that zero arrests were made in D.C.). What if we all acted on our ideas on a regular basis? Or someone else's ideas like we did at the Women's March? If I was a betting woman, I am confident that the we would live in a more just and loving world.
+++
No longer will we allow others a pass. We are the millions of people across the globe and we won't be denied our rights any longer.
#WomensMarch
#LoveArmy