The last few months have been filled with uncertainty, and for many recent college graduates, their plans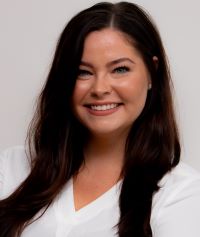 for the future have been put on hold. It is an unusual experience not having the opportunity to say goodbye to the friends I have learned alongside of and to the professors who helped guide me over the last two years.
Despite the challenging time we are all facing, I am proud to be a graduate of the Master of Policy Program at Michigan State University. Every person I have met along the way at MSU has made this achievement special and I am thankful for the amount of support I have received from friends, faculty and my family.
The last two years in the Master of Public Policy program has been the most rewarding experience and has helped me grow in immeasurable ways, personally and professionally. I will be forever grateful to have had the opportunity to earn my Master's degree from Michigan State University and to the Institute of Public Policy and Social Research for allowing me to learn without the worry of financial stress. As I move on to the next phase in my life, I am more confident than I have been before and excited to reach the new goals I have set for myself.
I would like to give a special thanks to all of my professors for all the inspiring lectures and helping me see how policy is the vehicle for systematic change in our society. It is now more important than ever to have evidence-based policymaking to find solutions to problems communities are facing. Looking back, the MPP cohort I was a part of during the last two years played an important role in my own development as an individual. The thought-provoking discussions and debates in class have shown me how important the work we were all being trained to do truly is.
I care deeply about the growth and resiliency in communities, and I plan to use the skills I received in the MPP program to be an advocate and create positive change. To all those who are considering a MPP degree, one piece of advice is to trust the process. The world of public policy and learning more about the change that needs to be done can be daunting and it is easy to lose sight that change doesn't need to be on the largest scale. We can't forget the reason we chose this career path, it is because we care deeply about issues affecting those around us and to create a better future.
I am grateful to have met the most passionate people in my 2020 MPP cohort and am excited to see what kind of impact they make on the world.
Hannah Sweeney is a new Master of Public Policy from Michigan State University. She graduated this spring after two years as a Graduate Student Fellow with the Institute for Public Policy and Social Research in the College of Social Science. She's looking forward to making a difference in nonprofit work, and ultimately, in governmental affairs.