The September 11th IPPSR Public Policy Forum panelists dove into the 2020 Census and what that means for the state of Michigan. The US Census Bureau's slogan, counting everyone once, only once, and in the right place, indicates a need for detail oriented survey distribution. All four speakers stressed the need for a full count. Among them was Dr. Noah Durst who provided a thought provoking presentation on the statewide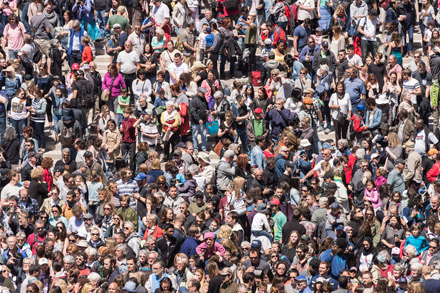 political, academic, and economic implications of undercounting. Less than a full Census count undercuts appropriation of federal resources and political representation. There is much work to be done to ensure that "hard to count" populations are served equally as well as the rest of the state, he said.
Undercounting occurs when even one person does not complete and submit their Census form and are, thus, unaccounted for in the total population. Many factors contribute to why a person might miss the survey or give an inaccurate response. Reasons include homelessness, misunderstanding survey questions, and concerns regarding confidentiality. During the forum, a representative from the Lansing Latino Health Alliance identified immigrants, both documented and undocumented, as having apprehensions about completing the census. Further, Joe Scantlebury, Vice President for program strategy at the W.K. Kellogg Foundation, specified that children are undercounted because adults are simply unaware that children must be included as members of their household on census forms. To give a measure, the 2010 Census undercounted approximately 2% African Americans/Blacks, 1.5%   Hispanics/Latinos, and 1% renters. Already underserved minority groups will continue to be marginalized if undercounted in the 2020 Census.
Undercounting in the 2020 Census will have implications on political representation, federal assistance including funding, and academic research. In anticipation of the 2022 election, Michigan voted in 2018 to establish the Citizens Redistricting Commission, a group of 13 registered voters: 4 Democrats, 4 Republicans, and 5 unaffiliated with either party. "The new Citizens Redistricting Commission will be tasked with redrawing districts for the Michigan Legislature and Michigan's representatives in the U.S. House of Representatives. An undercount will pose a risk to efforts to fairly and accurately redraw these districts," identified Dr. Durst. Federal funding is also at stake when collecting Census data. "Recently, researchers at George Washington University estimated that for every person that was not counted in the 2010 census, Michigan lost $954 in fiscal year 2015 alone. These same researchers estimated that a one percent undercount in Michigan would lead to the loss of more than $90 million. Those are funds that would be lost statewide." Additionally, researchers rely on Census data to examine population and economic trends. The Census is the nation's most extensive population count used to help inform decision makers in policy. Without a precise demographic calculation, those typically undercounted remain the most need of support services provided through federal funding based on the census.
Dr. Durst used online tools (Hard to Count 2020 and Response Outreach Area Mapper) to identify Detroit as the area in Michigan at highest risk to be undercounted. I spent the summer in Detroit, working with the homeless, so this distresses, but does not surprise me. Homeless people – including families – are transient, moving often from house to house. These moves make mailed surveys difficult to deliver to the intended recipient. Follow up is nearly impossible. Additionally, those experiencing homelessness lack internet access for online survey options. In this case, soup kitchens and homeless shelters have an opportunity to serve the community by collaborating with the U.S. Census Bureau. Still, almost everyone I met in the city was working, but barely getting by with the help of federal assistance programs like WIC and Medicaid. To this city, $1,000 per person, per year on these programs is too much to lose. Special outreach efforts and considerations must be made to guarantee every Detroiter is counted in the 2020 Census.
All forum panelists – Noah Durst, Marilyn Sanders, Joe Scantlebury and Kerry Ebersole Singh – encourage Census participation by setting up survey protocols, organizing Complete Count Committees, and partnering with community organizations that connect with hard-to-count groups. Each identified the unique position of legislators, researchers and neighborhood leaders to advocate for a complete count in the 2020 Census. Dr. Durst ended by stating "Working closely with trusted and respected community organizers and leaders is needed to both raise awareness regarding the importance of ensuring an accurate count and to assuage any concerns or fears communities may have regarding participating in the census."
Achieving a full count in the 2020 Census is a considerable undertaking, but attainable through partnerships with leaders in Michigan's marginalized areas. Cities like Detroit, Saginaw, Flint and remote areas of the Upper Peninsula cannot afford to lose political representation and nearly $1,000 per person, per year in federal funding. No area of our state can afford that. If we want to continue accurate research and effective policymaking, we need all hands on deck for a full census count in 2020.