Marking the 2016 presidential campaign, Michigan State University's Michigan Political Leadership Program will feature a former Democratic presidential candidate and a Republican strategist and consultant at its annual 2017 fundraising events.
Howard Dean, a former Vermont governor and 2004 presidential candidate, will join Ana Navarro, GOP strategist and political analyst for CNN, CNN en Español, ABC News and The View, at MPLP's annual dinner and breakfast.
Matt Grossmann, director of the Institute for Public Policy and Social Research which is MPLP's MSU home, made the announcement.
Dean and Navarro will speak together at dinner Thursday, March 2, 2017 at Laurel Manor in Livonia and again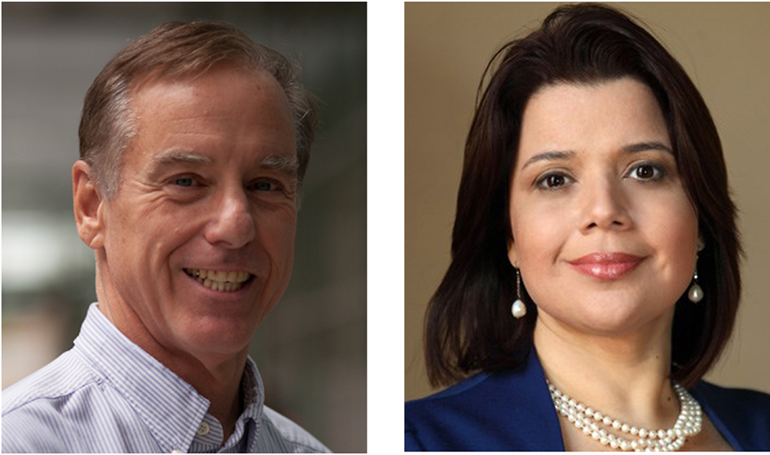 at breakfast the next morning Friday, March 3, 2017 at the JW Marriott in Grand Rapids. More information about MPLP can be found at http://ippsr.msu.edu/mplp.
Tickets, tables and sponsorships are available now.
The dinner and breakfast raise essential support for MPLP, known as one of the nation's leading political training programs. Each year since its founding in 1992, MPLP selects 24 people to take part in 10 months of weekend training.
The program is bipartisan, each year selecting 12 Republicans and 12 Democrats and equal numbers of men and women. Applicants are sought from all Michigan regions, from Benton Harbor to Detroit and from Mt. Pleasant to Marquette.
MPLP training brings fellows together with leading Michigan authorities knowledgeable about governing excellence, campaign finance and media relations. Training takes MPLP Fellows to hands-on activities, community tours and industry visits around the state.
A typical MPLP year begins with training in February and concludes with graduation ceremonies at the annual fundraising events. Applications for each new class are available in May. They are due this year on Friday, Sept. 9 with final selections expected in mid-winter.
Since the program's founding, more than 600 people have earned MPLP certificates and more than half of them have or are serving in appointed or elected positions.
Among them are mayors of Michigan's largest and smallest communities, township trustees, school board members and 11 current members of the Michigan Legislature. IPPSR's latest research finds that MPLP Fellows are more likely to run for political office, and more likely to win than those without fellowship experiences.
The Institute for Public Policy and Social Research is known for public policy, political leadership and survey research through its Public Policy Forums, Office for Survey Research and State of the State Survey, in addition to MPLP.