New Michigan State University graduate Taylor Thrush is this year's winner of MSU's Daniel Rosenthal Legislative Intern Award.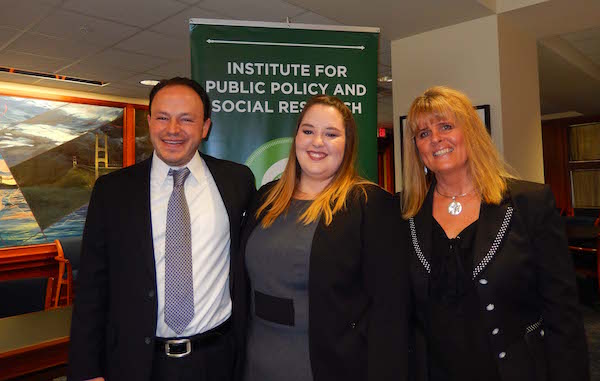 The social relations and policy major is hoping to stay in Lansing, her hometown, and translate her legislative internship into work with the Michigan Legislature.
"I was always interested in policy," she says.
Her most memorable task as an intern for Rep. Al Pscholka, R-Stevensville, was helping to work on the "Good Samaritan Act" -- Public Act 220 of 2015. "That was my favorite," says Thrush.
Pscholka sponsored the legislation exempting from prosecution minors or friends who seek help for those believed to be suffering from an overdose of prescription medications.
In nominating Thrush for the award, Pscholka Legislative Director Kristie Sieloff noted that Thrush was included in ceremonies when Gov. Rick Snyder signed the bill into law. "She was influential in creating the act and deserved to be a part of that wonderful moment when our bill became law," Sieloff wrote.
Thrush's political interests began at an early age, remembers her mother Kari Thrush, a Lansing resident. "She joined the student senate as a freshman and stayed all the way to her senior year," Kari says. Capping her classroom successes, she was elected student body vice president at Lansing Catholic High School.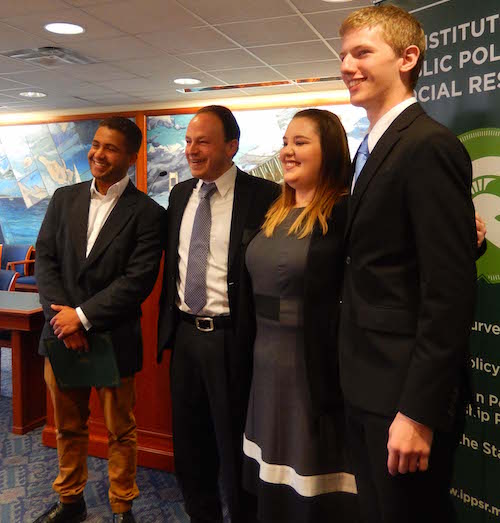 Robert Brown, of Howell, studying international relations and political theory at MSU, was named first runner-up for the Rosenthal Award. He was nominated by Rep. Klint Kesto, R-Commerce Township, and praised for his hard work and dedication to constituent relations and legislative policy.
"I knew I wanted to go into the political world," he says.
He has his sights set on work in a congressional campaign, and in his application expressed enthusiasm for the opportunities to experience life in the state Capitol as an insider.
Andrew Sorrow, of Kalamazoo, a political science student at Western Michigan University, is winner of a runner-up award established by former U.S. Rep. Vernon Ehlers. He too was nominated by Pscholka.
The 14 interns nominated for this year's Rosenthal Award have advocated for foster children and for sufferers of rare diseases, writing legislative tributes in their honor.
They have crafted easy-to-navigate scheduling systems to help legislators read to youngsters in their classrooms and been at history's center as the state grappled with water infrastructure issues and financing of Michigan's urban schools and cities.
Rosenthal, of Ann Arbor, was one of the first to participate in MSU's Legislative Student Intern Program. His family and the legislative office where he worked remember his enthusiasm and contributions, and were stunned at his untimely death, of a congenital heart defect, in 1977.
Since the award was established, 33 legislative interns have been named Rosenthal winners.
The awards are jointly administered by MSU's Institute for Public Policy and Social Research and James Madison College.
"The Rosenthal Committee is excited to be acknowledging the hard work and contributions of several outstanding interns in the Michigan Legislature," said Maxwell Olivero, Madison Field Experience Coordinator and a program administrator. "We look forward to seeing their talents put to use in lives of public service or whatever they go on to accomplish."
Other interns nominated from Michigan community colleges and universities are:
Zachary Bischel, of Buffalo, N.Y., an MSU political science and pre-law major, nominated by Rep. Dan Lauwers, R-Brockway.
Cait Corie, of Dundee, a political science major at Monroe County Community College. She was nominated by Sen. Dale Zorn, R-Ida.
Angelica Cox, whose hometown is Caro. She studies social relations and policy at MSU's James Madison College. She was nominated by Rep. Andy Schor, D-Lansing.
Amber Drury, of Elsie. She's majoring in history and writing at Lansing Community College and was nominated by Rep. Henry Yanez, D-Sterling Heights.
Andrew Herlein, of Spring Arbor. He is studying business administration at Spring Arbor University. He was nominated by Rep. Lana Theis, R-Brighton.
Stone Kelly, of Saginaw, a freshman at Lansing Community College. He's studying political science and was nominated by Dave Smith, at Michigan House Television where Kelly interns.
Samuel Lewis, of Rockford, who attends the University of Michigan in Dearborn and studies political science. Rep. Robert Wittenberg, D-Oak Park, nominated him for the honor.
Emily Pallarito, of Gaylord, who is studying community governance and advocacy at MSU. Rep. Triston Cole, R-Mancelona, nominated her for the award.
Leanne Pregizer, of Sterling Heights. She studies political science and prelaw at MSU. She was nominated by Sen. Rebekah Warren, D-Ann Arbor.
Jordan Small, of Troy, who is studying international relations at MSU. He was nominated by Wittenberg and Rep. Jim Townsend, D-Royal Oak.
Gabriela Swain, of Ionia, who studies community governance and advocacy at MSU. She was nominated by House Speaker Kevin Cotter, R-Mount Pleasant.