In a first for Michigan State University's Michigan Political Leadership Program, three women with ties to the leadership program – including MPLP's Co-Director -- are winners of 2019 WONder Woman awards.
Honored on Wednesday, Oct. 2 at The Women Officials Network Foundation's 35th WONder Woman Awards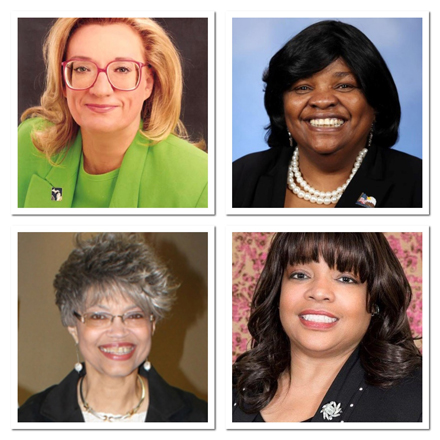 Banquet in Farmington Hills are:
MPLP Co-Director Susy Avery, a former state Republican Party Chair and executive in the administration of Gov. John Engler. She has served as Executive Director of the Michigan Women's Commission, Michigan Director of Travel and Tourism, Wayne County Commissioner and Northville Township Supervisor. She's hosted two cable television programs and frequently appears on radio and television.
State Rep. Brenda Carter, president of the Michigan Association of School Boards Board of Directors, former president of the Pontiac School District Board of Education, National School Board Association, Oakland County School Board Association and former Interim Assistant to the Troy City Manager. She's a graduate of the MPLP Class of 2013.
Deborah Macon, a 1993 MPLP graduate, a professional facilitator, trainer, coach, parliamentarian and consultant on board governing. She worked for the Michigan Association of School Boards for more than 20 years, served two terms on the Bloomfield Hills Board of Education and as a West Bloomfield Township trustee. She was a member of the Michigan Community Service Commission under Engler and Gov. Jennifer Granholm administrations.
Marking the organization's 35 anniversary, it named Macon its first Super WONder Woman. "We congratulate her for continuing her distinguished and steadfast work to encourage, train, mentor and support women and girls in Oakland County who wish to take a leadership role in public service," the organization said in its announcement.
The announcement was made by WON President Sheryl W. Mitchell, a 2002 MPLP graduate who has been Lathrup Village City Administrator since 2017, previously Albion City Manager, Oakland County senior analyst and a senior staff member for Detroit Council Member Mel Ravitz.
"This is a special honor for MPLP and its many men and women who have served in appointed or elected positions across Michigan," said Matt Grossmann, director of MSU's Institute for Public Policy and Social Research where MPLP makes its academic home.
"It is even more noteworthy that former MPLP Co-Director Anne Mervenne is a past WONder Woman," he added. "We are honored to celebrate all our MPLP wonder women."
WONder Women are selected for contribution to the community beyond employment; demonstration of character, commitment and leadership; and, help to women and girls in reaching full leadership potential.
Since its organization in 1992, MPLP has selected 24 people -- equal numbers of men and women -- to take part in a unique fellowship program that takes MPLP Fellows through 10 months of specialized training. More than half of its alumni have served or are serving in elected or appointed posts.
At MSU, MPLP is a unit of the Institute for Public Policy and Social Science, focused on political leadership, policy education and survey research, within the College of Social Science.