Michigan's new Secretary of State-elect is a Michigan Political Leadership Program graduate – the first statewide officer elected on a partisan ballot from the leadership program, based on unofficial results from the Nov. 6 election.
Jocelyn Benson, a member of the Michigan Political Leadership Program's class of 2007, was elected Secretary of State on Nov. 6.
MPLP alumni won six Michigan Senate seats, 11 state House posts, two seats on governing boards of the state's research universities, three judgeships and at least  a dozen local races, results to date show. See the winners.
Michigan's Board of State Canvassers is due to certify statewide results Nov. 26, making official all vote tallies that cross county boundaries.
"What a night for MPLP alumni," said Steve Tobocman, a former state House Majority Floor Leader and MPLP co-director. "This is a remarkable outcome," said Susy Avery, a former Michigan Republican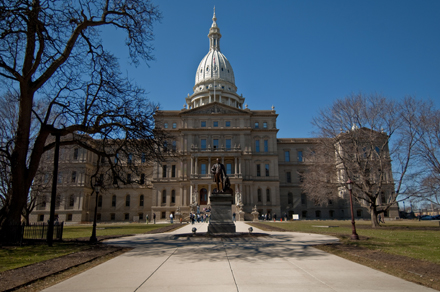 Party chair and fellow MPLP co-director.
MPLP, a bipartisan 10-month fellowship program, trains 24 people a year in personal leadership, policy analysis and good governing.
See the entire list of MPLP alumni winning top elected seats this November.
MPLP was founded in 1992 to prepare candidates for office at a time of term limits. A total of 24 people per year are competitively selected for MPLP Fellowships.
Since then, more than 600 people from across the state have completed the specialized training that takes them across the state to visit communities and organizations and to learn about finance, campaigning and successful relationships from government, private industry and media leaders.
About half of them have served or are serving in elected or appointed positions, ranging from mayors of major Michigan cities to precinct delegates in both political parties.
Recent research following MPLP alumni shows that Fellows are more likely to run for office than those who haven't completed the training and more likely to win their races, said Arnold Weinfeld, interim director of MSU's Institute for Public Policy and Social Research (IPPSR).
MPLP makes its academic home at IPPSR, which combines political leadership training and public policy education with survey research in MSU's College of Social Science.
This coming January, a total of 17 MPLP will serve together in the Michigan Senate or House of Representatives, he said. During the past two years, 11 alumni served as House or Senate members– four in the Senate and seven in the state House.
"This is an exceptional record and one that we are very proud of," Weinfeld said. "We celebrate every MPLP alum who runs for office, from local to statewide offices."
MPLP is currently preparing to name its 2019 Class of Fellows.
Beyond its 10 month training schedule, MPLP also hosts two fundraisers, coming up this spring, that invite two nationally known political speakers and raise essential financing for fellowships.
In 2019, political campaign advisers Alex Castellanos and Patti Solis Doyle will headline dinner on Thursday, March 7 in Novi and breakfast on Friday, March 8 in Grand Rapids.
More information and tickets are available at mplp.msu.edu.
Find IPPSR in social media @IPPSR and @MPLPMSU on Twitter and on Facebook at https://www.facebook.com/Institute-for-Public-Policy-and-Social-Research-IPPSR-554215311270962/ and https://www.facebook.com/MPLPMSU/