Michigan's global automotive manufacturing strength is squarely exposed to newly proposed international tariffs on goods made in Mexico and China, a new State of the State Podcast indicates.
Michigan State University's Institute for Public Policy and Social Research fielded three well-known voices in the latest the State of the State podcast: Interim IPPSR Director Arnold Weinfeld, economist Charles Ballard and Corwin Smidt, associate professor of political science.
President Trump has newly announced tariffs on goods made in Mexico to step the flow of migration from Central America. "By some measures, we're more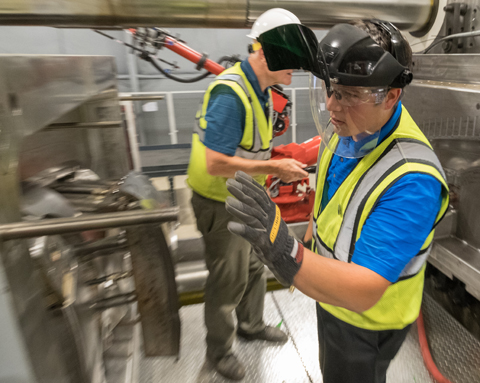 exposed to tariffs on Mexican goods, than any other state," Ballard, also director of IPPSR's State of the State Survey, said during the three-way podcast conversation. 
The president earlier imposed tariffs on Chinese goods, another potential jolt for trade-dependent states like Michigan, Ballard said.
U.S. supply chains, especially involving automotive manufacturing, are closely connected with Mexico and Canada, Ballard noted. "You've got components crossing borders like crazy. Michigan is deeply involved in the North American economy. Tariffs have the potential to do some damage."
"The economy is sort of like a spider web. If you pluck it in one corner, the whole thing shakes," he added.
Trade may mix with politics yet this summer, as the IPPSR podcasters talked of a potentially upcoming U.S. Supreme Court decision on Michigan's efforts to reform statewide redistricting.
The court is facing redistricting cases from several states, including Michigan. The nation's high court is expected to end its term this month, Smidt noted. "People are setting the stage waiting for … these outcomes, come the end of June, most likely… where the Supreme Court's going to make some decisions about partisan gerrymandering," he said.
In November 2018, Michigan passed a ballot initiative creating an independent redistricting commission to govern how voting lines are drawn. The task had been primarily handled in the most recent past by Michigan's Legislature.
IPPSR's State of the State podcast is featured on radio stations on the air and over the internet, on SoundCloud at http://soundcloud.com/stateofthestatepodcast, over ITunes, on Facebook, Twitter and on the IPPSR website at ippsr.msu.edu.
On the MSU campus, IPPSR specializes in policy education, leadership training and survey research in MSU's College of Social Science.
IPPSR is the home of the Michigan Political Leadership Program, the Office for Survey Research, State of the State Survey, Legislative Leadership Program, Rosenthal Legislative Internship Program, more than 60 affiliate faculty members, student policy fellows and major research databases on topics of interest to academic researchers, legislators, policy makers, elected leaders and journalists around the world.