As the world continues to battle the coronavirus, Michigan residents are giving Gov. Gretchen Whitmer high job performance marks while describing their personal finances as more depressed, new results from the State of the State Survey show.
President Donald Trump drew lower marks in the results of two sets of cell phone made in February and May 2020. Each survey was answered by 1,000 people, and carried a margin of error of 3.1%.
In February, 36.6% of Michigan's residents gave Whitmer "excellent" or "good."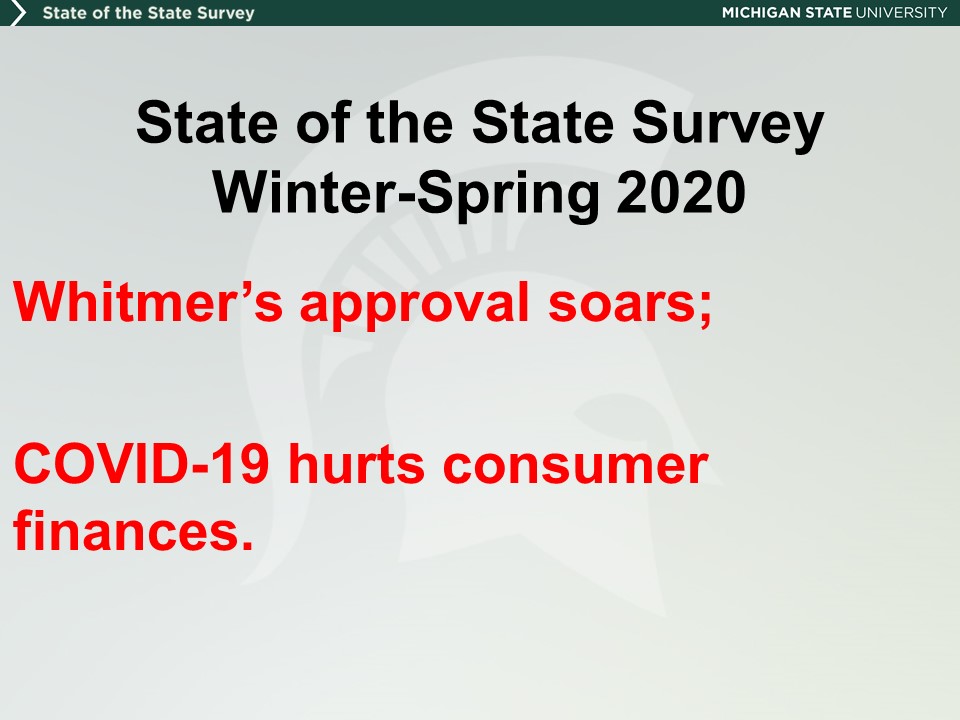 By May, she won 51.9% favorable ratings, said MSU Economist Charles Ballard, who directs SOSS for the Institute for Public Policy and Social Research.
President Donald Trump's approval changed very little from the February survey to the one in May. In February, 39.2% of Michigan's residents gave him an "excellent" or "good." He won similar responses from 39.5% of Michigan's residents in May. "About half of survey respondents gave Trump a 'poor' rating," Ballard said
Michigan residents were also asked how Whitmer and Trump had handled the COVID-19 infection. Answers to those questions tracked the job performance ratings, Ballard said. "It appears a lot of Michigan residents were impressed by the way in which Gov. Whitmer has handled the COVID crisis," he added.
The survey results were shared during the recording of IPPSR's State of the State Podcast featuring political scientist Matt Grossmann, IPPSR Director, and Arnold Weinfeld, associate IPPSR director.
The August podcast edition focused on COVID-19's ripple effects on primary elections around the country, Joe Biden's selection of Kamala Harris as his vice-presidential candidate, combined with outlooks for the economy and the national election.
Subscribe to the State of the State Podcast on SoundCloud. See a presentation of results. 
On pocketbook issues, those answering the survey noted coronavirus effects on their current finances and their outlook for the year ahead. Michigan residents who said they were better off than a year ago fell 16 percentage points. The fraction who said they were worse off than a year ago increased by the same amount.
Among all those answering the surveys, 45.6% called their current circumstances "excellent" or "good." Another 17.6% called their finances "poor" or "not so good."
"If you're able to work remotely, you probably have maintained your employment and many folks are doing okay," Ballard said. The ratings reflect jobs lost and people working through the pandemic, Ballard observed.
Don't look for much of an economic recovery in the short-term, he counseled podcasters. "We will not get the economy back on track until we get COVID under control. It's likely to continue to be a bumpy ride."
The survey results differed along party, gender, race, and income lines. Women and African American  respondents gave Whitmer majority high marks; Trump found more favor among male and white respondents.
Among Democrats, 85.9% gave Whitmer approval. Of those who identified themselves as Republicans, 84.6% gave Trump good or excellent ratings. Independents gave higher favorable marks to Whitmer than to Trump, with 44.8% saying Whitmer is doing an "excellent" or "good' job, compared to 38.3% for Trump. 
Men, Republicans and those reporting an income of above $100,000 were more financially upbeat. Of those with household income of $20,000 or below, 46% described their finances as not so good or poor.
Those 65 and older felt the most comfortable, with 58.6% describing their household finances as excellent or good.
On other election trends, the podcasters found:
More minority women are winning primaries across the country and in the GOP the most women nominees ever. It's not clear if those gains will hold through the Nov. 3 General Election and beyond, Grossmann said.
U.S. Sen. Gary Peters doesn't appear well-known with voters and Republican challenger John James has some opportunity to make his differences known against his incumbent Democratic opponent, Grossmann said. "But bottom line, if it's a Democratic trending year, you just don't expect Republicans to win Michigan."
While some polls show former Vice President Joe Biden ahead in Michigan, President Trump could still lose the popular vote and win the Electoral College, Grossmann said. That's exactly what happened four years ago, he said.