While the nation has gained more than a million jobs this year, job growth in the U.S. heartland is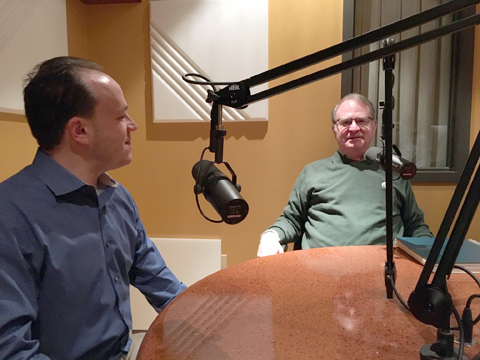 stagnant to slowing, a Michigan State University economist said during November's State of the State Podcast.
Michigan's job growth has been flat since January. Ohio and Indiana have lost jobs during the same period, Economics Professor Charles Ballard said during the Institute for Public Policy and Social Research (IPPSR) broadcast.
Ballard is director of IPPSR's State of the State Survey, one of the state's only regular public opinion surveys tapping Michigan citizen attitudes.
November's State of the State Podcast features hosts Ballard and IPPSR Director Matt Grossmann talking economics, politics and leadership. Listen to the podcast here.
Nationally, job growth is pegged at 1.2 million this year. "None of that has been happening in this part of the country" where manufacturing accounts for so large a segment of economic activity, he said.
Michigan's gross domestic product – a broad measure of goods and services over time – actually declined in the fourth quarter of last year, he added.
It has grown some since then, but slowly, he said. "That doesn't mean we're necessarily in a recession, but it does mean that we're on the edge of a recession in Michigan."
Historically, the nation's economy also colors the public's view of politics with implications for the 2020 presidential election, Grossmann observed.
The week before President Donald Trump was elected, Democrats viewed the economy positively, he said. Two weeks later, with no new policies enacted, "suddenly the economy had gone south according to the Democrats," Grossmann said.
With a strong national economy, it remains to be seen whether Trump is held responsible for Michigan's flat standing, Grossmann added.
Michigan's toughest-in-the-nation term limits are also under new review, Ballard said. In State of the State Survey results over past years, Michigan citizens are in favor of restricted terms served in the state Senate and House of Representatives.
However, the same surveys show that Michigan citizens lean toward loosening some restrictions. "There's majority support for chiseling away at it," Ballard said.
There's little public outcry for less restrictive term limits, Grossmann said, even when experienced legislators are viewed as more effective. While power may have shifted to lobbyists or administrators, few new effects on policies are seen under tight term limits, he said.
"I don't know that it's going to change much on the public side," he said. "Even on the Democratic side, you still have the appeal of this anti-politician messaging."
A new proposal combining relaxed term limits with restrictions on politician-to-lobbyist career moves might be more appealing, Grossmann said. "Then maybe you could sell it as an empowering initiative for the Legislature against outside interests."