Michigan residents were more upbeat about the economy this winter than about their elected leaders in Michigan State University's latest State of the State Survey (SOSS), released Friday.
President Donald Trump's positive ratings were up very slightly, from 28 percent in the previous survey to 29.7 percent in the latest mea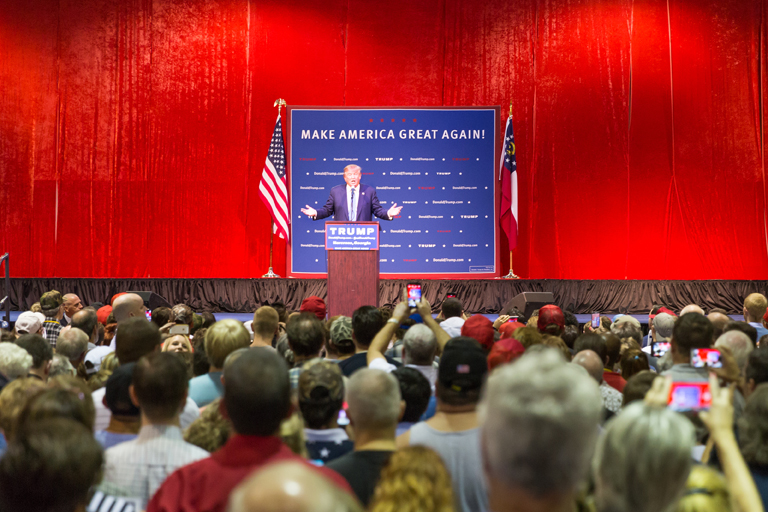 sure. Michigan Gov. Rick Snyder received favorable ratings from 26.3 percent of Michigan residents.
At the same time, Michigan residents were highly optimistic about their current household finances. Those who called themselves better off than a year ago outnumbered those who said they were worse off by two to one. More than 60 percent forecast they'd be better off a year from now, said Charles Ballard, MSU economist and SOSS Director.
"It's remarkable to see such low ratings for elected leaders, at a time when the economy is in better shape than it has been in many years" said Ballard. "Snyder's favorable ratings have been below 30 percent since the Flint water crisis. Trump's low ratings may be the result of some of his divisive rhetoric."
Click here to see the full analysis.
These results came from the 75th round of SOSS. Questions were asked Michigan residents over the age of 18. SOSS is the only survey conducted in Michigan designed to systematically monitor the public mood on important issues in major regions of the state.
SOSS results were announced during the State of the State Podcast, a new policy-focused broadcast heard over ITunes, SoundCloud, and radio stations throughout Michigan.
The survey, which includes both landlines and cell phones, interviewed 963 people between Sept. 14, 2017 and Jan. 18, 2018. The survey carried a margin of error of 3.16 percent.
"President Trump's favorable ratings were lower than presidents Bill Clinton or Barack Obama ever received," Ballard said. "However, President Trump's ratings were higher in this SOSS than President George W. Bush's during his last two years in office."
Snyder started office in 2011 with favorable ratings at 44.5 percent, as measured in SOSS. His favorables were between 30 percent and 40 percent for most of his term. Since the Flint water crisis, however, Snyder's favorables have been below 30 percent, Ballard said.
Trump's excellent ratings outpace Snyder's, 10.2 to 5.5, but his good and fair ratings are lower. Among the Michigan residents who were interviewed in this round of SOSS, 49 percent give Trump a poor performance rating. In the latest SOSS, 30 percent rate Snyder's performance as poor.
Men rate Trump and Snyder more highly than women do, and whites rate the two men higher than black Michigan residents do. Trump's and Snyder's ratings are substantially higher in the Grand Rapids area than in southeast Michigan.
Some 57.7 percent of those answering the survey called their finances excellent or good, and 45.8 called themselves better off than a year ago. Both of these are among the strongest levels of consumer confidence since the early 2000s.
Also, 62.7 percent of Michigan residents predicted they'd be better off in winter 2019, which is the best reading since 2014, Ballard said. "Their optimism is still lower than that measured in SOSS in 1999, when 70.5 percent predicted they would be better off in the following year."
In the latest SOSS, men, whites, Republicans, and those whose income is above $100,000 were the most likely to call their finances excellent or good.
The State of the State Survey is administered by MSU's Institute for Public Policy and Social Research and conducted by IPPSR's Office for Survey Research.
IPPSR is a unit of MSU's College of Social Science and specializes in public policy education and analysis, political leadership training, and survey research, and is a hub of policy education for students, faculty, and public and private researchers across the nation.