Michigan residents are remaining confident about the economy with better than half of them calling their current circumstances excellent or good, according to results from Michigan State University's State of the State Survey.
In the latest SOSS, 56.9 percent of those who responded called their current financial situation excellent or good. Just about 30 percent called it fair. Another 12.9 percent called their circumstances not so good or poor.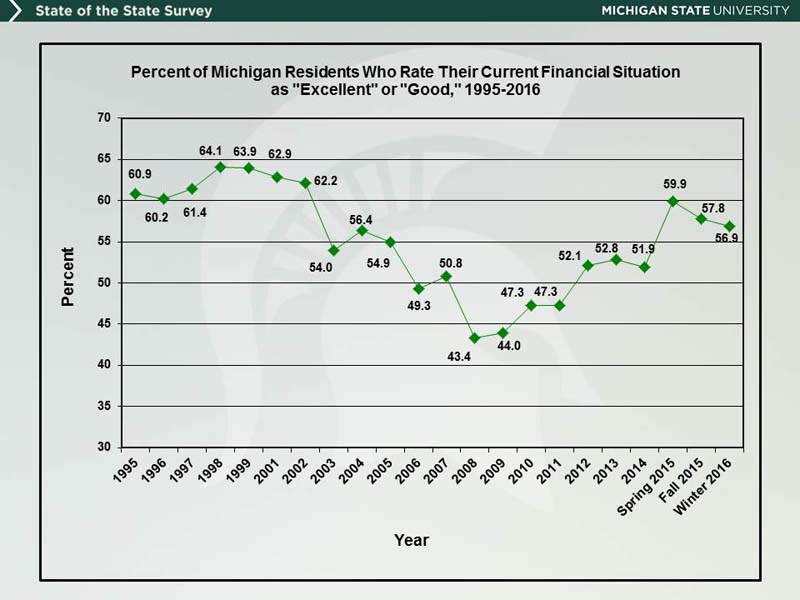 Michigan adults questioned in the survey also said they are just slightly better off this year than they were a year ago – 43.8 percent said they are better off, 30.4 percent are about the same and 25.9 percent consider themselves to be in worse condition. The survey's margin of error was 3.11 percent.
"By these measures, confidence in the economy is staying relatively strong," said Charles Ballard, MSU economics professor and State of the State Survey director. Michigan residents' assessments of the current economy were very similar to ratings in the survey a quarter ago, Ballard said.
"Those who believe their current finances were excellent or good decreased very slightly in the current survey. So did the percentage of those who consider their current circumstances to be not so good or poor," Ballard said.
Despite some ups and downs during the past six months, the economy appears to be healing, Ballard said. Unemployment has stabilized, with Michigan gaining 100,000 jobs in the last year. "That's a very solid showing," he said. "If the progress continues, I would not be surprised to see another uptick in sentiment."
Respondents who projected that their status would be better off a year from now were nearly identical to those in the previous quarterly survey. A positive 58.7 percent predicted they'd be better off, 22.3 said they'd be in about the same circumstances and 19 percent worried they'd be worse off.
Altogether, the current measures show small improvements and very small declines. Long-term, all of the ratings are much better than the period between 2006 and 2011, yet still lower than 1999, Ballard said.
Michigan's financial confidence crested in 1999, with 70 percent of respondents predicting they'd be better off a year into the future, as the state and nation recorded some of their best economic news.
Less than half, on average, looked positively toward the year ahead during the recessionary 2006-2011 period.
Demographically, in the latest survey, slightly more men saw their current finances as excellent or good than women did, 60.6 percent compared to 53.4 percent respectively. Republicans were decidedly more upbeat than Democrats.
Results showed 71.8 percent of Republicans considered their current conditions as excellent or good. Among Democrats, 46.7 percent called current circumstances excellent or good.
SOSS found a racial split as well, with 61.9 percent of white respondents seeing their current finances as excellent or good and 27.5 percent of black respondents calling their current conditions excellent or good.
"This is probably not surprising, since median household income for Michigan blacks has been less than 60 percent of median household income for Michigan whites in recent years," Ballard explained.
The latest survey interviewed 995 Michigan residents – half by land-based phones and half by cellphones – from Jan. 25 to March 26. Interviews were conducted as national candidates traveled the state leading up to Michigan's March 8 presidential primary. GOP businessman Donald Trump and Democratic U.S. Sen. Bernie Sanders won that vote.
A presentation of the results can be seen at https://www.ippsr.msu.edu/sites/default/files/soss/SOSS72Confidence.pdf
SOSS began in 1994, and focuses solely on Michigan attitudes and opinions. Quarterly rounds of questions and results are made publicly available for analysis and review at http://ippsr.msu.edu/survey-research/state-state-survey-soss/sossdata.
MSU faculty, staff and students, as well as public and private organizations, are welcome to add questions to the survey. SOSS is a part of MSU's Institute for Public Policy and Social Research, which includes the Michigan Political Leadership Program, Public Policy Forums and Office for Survey Research.