From the much-photographed front steps to the many-storied paintings of Michigan governors, MSU's Michigan Political Leadership Program Fellows saw the state's most recognizable building from the inside out.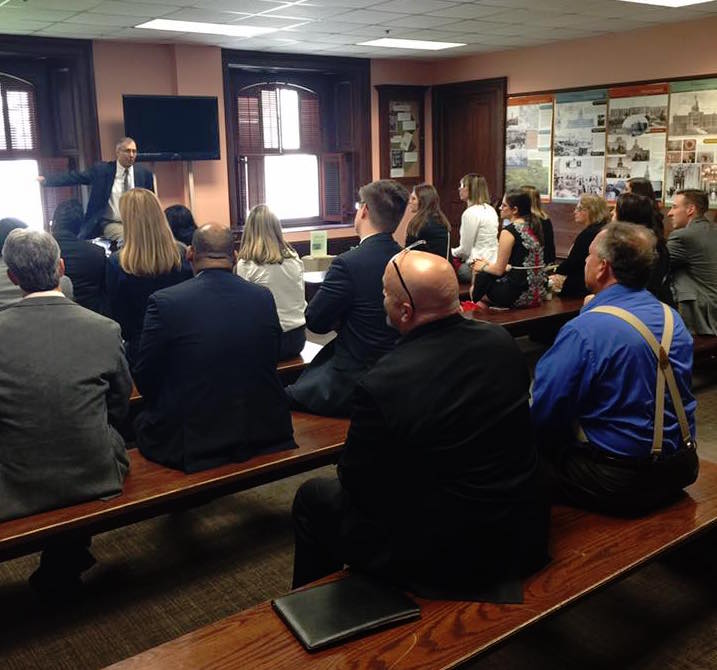 Longtime political "floor guy" Gary Garbarino, now retired after years of work with legislative leaders on the state House floor, shared some of his favorite stories and spaces in the sandstone and cast iron Neoclassical beauty that was as dazzling when completed in 1879 as it is in spring 2016.
It was "Weekend IV" for MPLP, a full Thursday and Friday that took the Fellows to Lansing for visits with legislative caucus leaders, social media gurus, advocates for building public trust in government and Lt. Gov. Brian Calley for insights into life lived on the frontlines of politics.
"The opportunity to listen to previous caucus leaders and ask questions about the challenges they faced was the most beneficial session I have experienced in the program thus far,' said MPLP Fellow Trisha Brumley of Eaton. She's currently Legislative Director for Senate President Pro Tem Tonya Schuitmaker.
On the panel "What It Takes to Successfully Lead a Legislative Caucus" were:
Dianne Byrum, former House Minority Leader.
Randy Richardville, former House Minority Leader.
Ken Sikkema, former Senate Majority Leader.
Buzz Thomas, former Senate Floor Leader and House Democratic Leader.
"They shared with our group how they came to earn their caucus' trust, the strained relationships they faced, and how they balanced political obligations," said Brumley. "I, along with the other fellows, greatly appreciated their honesty and I am confident that their advice and experiences will help us all to become stronger leaders in the future."
MPLP Fellow Jason Hoskins, of Lathrup Village who serves as district director for state Rep. Jeremy Moss, agreed. "As someone who works in the Legislature, it was great to gain those invaluable insights from past caucus leaders," he said.
"It was a rare, and behind-the-scenes opportunity to understand leadership pressures," said MPLP Fellow Wedad Ibrahim of East Lansing, a juris doctor candidate at the MSU College of Law where she is a Geoffrey Fieger Trial Practice Institute student.
"Given the current state of politics at the state, and even national, level it is prevalent to hear about gridlock, uncooperative representatives, and political antics," she said.
"This MPLP weekend, with the help of current and former leaders on both sides of the aisle, helped me understand the pressures in leadership of caucuses, and enlightened me in the idea that both parties have the same goal – to advance our state – even if the mechanisms utilized by each party may differ in achieving that goal."
INSTAGRAHAMS: SOCIAL MEDIA IN POLITICS
"InstaGrahams: Social Media in Politics" followed the caucus leadership discussion. Graham Davis, lecturer in the Michigan State University Advertising, Public Relations and Retailing Department teamed with Assistant Attorney General Graham Filler, a 2012 MPLP Fellow.
Filler, energetic social media and sports enthusiast, left behind, as he shared on his Facebook home a "buzzfeed-esque tip sheet for candidates or those possibly in political office."
Filler's tips:
Be a consistent poster.
Be yourself.
Be relevant
Be a person
Post policy discussions (carefully)
Post pictures (high quality pictures)
Don't post tons of boring things
Davis is the director of marketing and business development at Collage.com, a fast-growing startup that makes custom products. He's the former new media director for Gov. Jennifer Granholm and helps teach the New Media Drivers License course at Michigan State University.
WHEN FAMILY JOINS THE CAMPAIGN
From the do's and don't's of online campaigning, MPLP's Fellows moved to the sobering world of real-life politics. Michigan Lt. Gov. Brian Calley, a strong supporter of MPLP, shared the latest news from his on-the-ground efforts in Flint, where new initiatives are underway to restore safe water to citizens.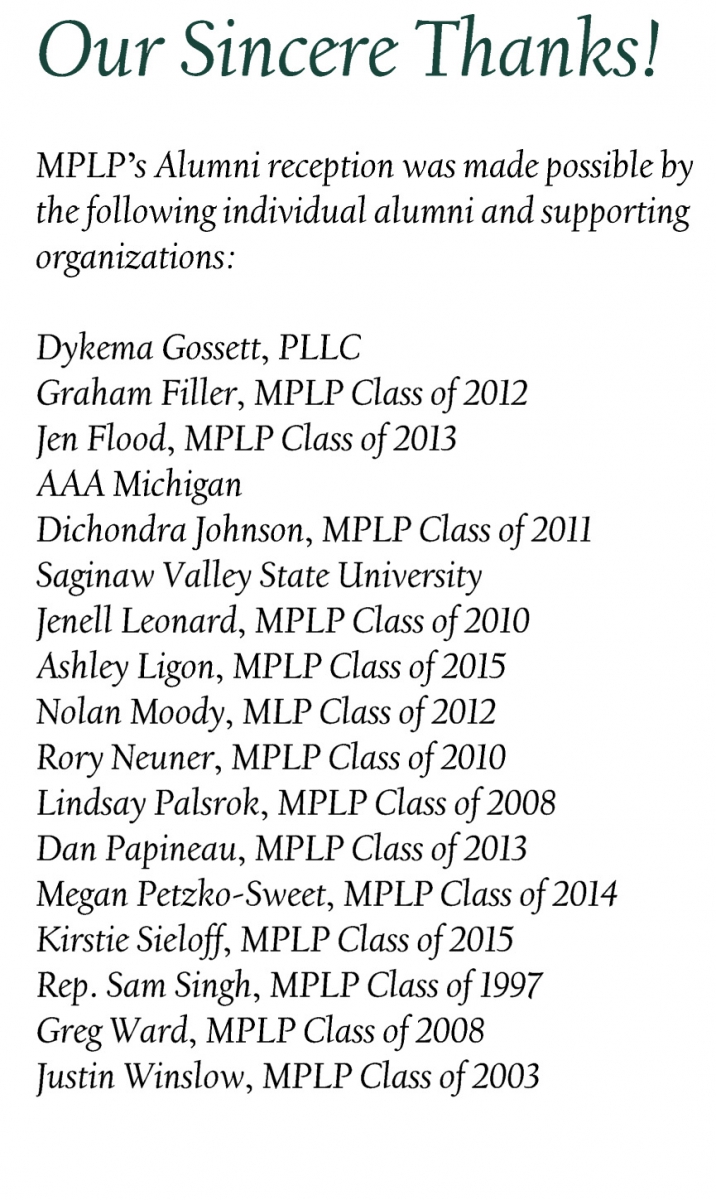 "He emphasized the importance of government agencies connecting directly with citizens," said Matt Grossmann, director of MSU's Institute for Public Policy and Social Research where MPLP makes its home in the College of Social Science at MSU. "He also talked about the reality of work-life balance in a two-politician family."
Calley's wife, Julie Calley, a member of the Ionia County Board of Commissioners and chairwoman of the Michigan Community Service Commission, is running for state House of Representatives in the 87th District on Michigan's west side. She's seeking the seat now held by Rep. Michael Callton, an MPLP graduate. 
After an energizing MPLP Alumni reception to cap off the day, sessions started again early Friday. MPLP Co-Director Anne Mervenne started the morning with instructions and homework on "Developing Your Campaign." As part of the program and with the co-directors' guidance, MPLP Fellows write a television ad and engage in radio and editorial board interviews as part of their plans. Mervenne is president of Mervenne and Company, a governmental relations consulting firm and served a dozen years in the administration of Gov. John Engler.
Campaign planning was followed by the session "Community Conversations: Restoring Public Trust in State Government." Phil Power, director, founder and chairman of The Center for Michigan, and Center Outreach Director Hailey Zureich outlined how the organization helps to build trust.
Former newspaper publisher and University of Michigan Regent Power founded The Center for Michigan as a "think-and-do" tank to explore public issues, engage and inform the public and call for change to enhance and improve the state's governing prowess. "We pledge to serve as your bullhorn to our state's leaders," the Center says in its publications.
Power harnesses the findings of MSU's State of the State Survey, also at home at IPPSR, showing that public trust in state government "is low, and dropping." Michigan residents "are happier with local government services than state services," the Center for Michigan says in materials outlining its call for 100 Community Conversations from this spring through next December.
The Community Conversations goal: to ask thousands of Michigan citizens to share their experiences and priorities and their ideas for increasing public trust in state government.
The two days ended with a request for ideas from the MPLP Fellows and formal evaluation of what they'd seen, done and heard. Offers MPLP Fellow Aditya Sathi, of Novi, vice chair of coalitions for the Michigan Republican Party: "I have had a great experience so far with the program, and have gained a great deal from every MPLP session."
Next up during MPLP Weekend V: a visit to Detroit.