MPLP Fellows see state politics – and leadership -- from the inside out
They're the men and women in neon red – hard hats – gaining an insider view of utility operations few people see. They're the ones writing television commercials, learning the technical details of campaign finance, the creative laws of media engagement and being warned about boring Facebook posts.
They are the 24 Fellows of Michigan State University's Michigan Political Leadership Program, spending one weekend a month for 10 months learning about each other and from the state's most experienced political leaders.
They've all expressed a personal desire to enhance their leadership and political skills to serve their communities, constituencies or causes.
Applications are now available for the MPLP Class of 2017 online at https://www.ippsr.msu.edu/political-leadership/michigan-political-leadership-program-mplp/apply. They are due Friday, September 9, 2016.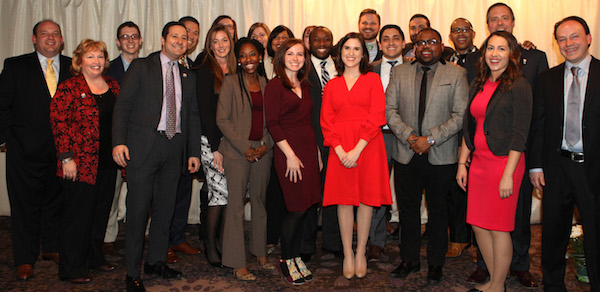 Applicants for the competitive fellowships are asked to demonstrate a dedication to sound public policy, expanded leadership skills, public office, participating in the political process and experience in local community activities and electoral politics.
"Above all, we prize a willingness to learn and explore different points of view," said Matt Grossmann, political scientist and director of MSU's Institute for Public Policy and Social Research where MPLP makes its campus home.
Since its founding in 1992, MPLP has awarded certificates to more than 600 graduates. Among MPLP alumni are mayors of Michigan's largest cities, candidates for the U.S. Congress, members of school boards and township boards, tribal leaders and 11 members of the Michigan Legislature.
MPLP's latest research proves the multi-partisan program's utility and its success. Nearly half of MPLP's alumni have served in elected or appointed positions – 27 in the state Legislature, 69 in counties and 122 in cities, villages or townships.
Completing MPLP doubles Fellows' chances of running for elected office and triples their chances of winning, Grossmann said.
Selected applicants will be interviewed based on written application and letters of recommendation. New MPLP Fellows are announced following interviews during October and November.
MPLP's 2017 Fellowships run from February through November. The curriculum includes specialized tours plus exercises incorporating personal leadership, public policy process and analysis, media and campaigns.
Accepted Fellows are asked to pay a $1,000 administrative fee, some travel and parking expenses and to commit to attending each of the weekend sessions.
Each Fellowship is valued at approximately $12,000. MPLP is supported by funding from MSU, foundations, Michigan associations, corporations, MPLP alumni and individuals. Donations are accepted online at https://www.givingto.msu.edu/gift/?sid=2123
More information about MPLP is available on Facebook at http://ippsr.msu.edu/mplp/, https://www.facebook.com/MPLPMSU and at Twitter @mplpmsu.
IPPSR is known for its outstanding training programs, Public Policy Forums and survey research in MSU's College of Social Science. It's latest initiatives add searchable databases for public policy experts and research informing politics and policy.
It is the online home of the Correlates of State Policy Project, unveiled this week as one of the most comprehensive public policy database intiatives to be made available through a research institution.
More information about IPPSR, a unit of MSU's College of Social Science, is available online at ippsr.msu.edu.