Michigan State University's Institute for Public Policy and Social Research unveiled a rich new resource designed to track changes in public policy across the nation's 50 states, IPPSR Director Matt Grossmann announced Thursday.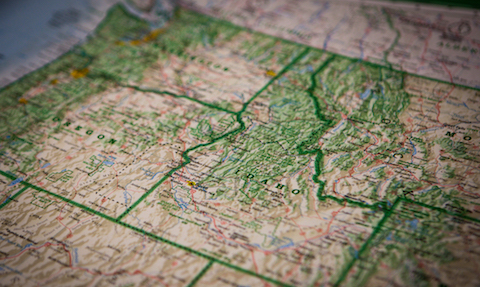 The new initiative, called the Correlates of State Policy Project, expands IPPSR's growing position as a central hub for policy-based research and information. It is believed the most comprehensive state-level dataset to be made available through a research institution.
"This database was designed as a broad and inclusive public resource, a 'one-stop shop' for information about state policies and politics," said Grossmann, a nationally known political scientist.
"It's meant to put the broadest possible information about policy and political information into the hands of academic researchers, policy analysts, students, policymakers and the research community."
In line with IPPSR's commitment to research transparency, the compiled data is free and publicly available. It can be found online at https://www.ippsr.msu.edu/public-policy/correlates-state-policy.
The new database represents more than 700 political, economic or social factors influencing policy across the states, and spans policy and political changes from 1900 to 2016. It is designed to be regularly updated, Grossmann said.
It includes online links to databases, articles and published papers grouped by such factors as policy, criminal justice, demographics, economics, elections, energy and environment, governance, health, interest groups, public opinion, partisanship and ideology.
The project is organized into downloadable files in user-friendly formats, including guides to the data and a section of research variables to be added in the future. Future additions include research compiled on minimum wage laws, the number of undocumented immigrants by state, state lobbying laws and legislative redistricting criteria among others.
The database draws upon the work of scores of faculty members, associations, federal agencies and nonprofit organizations across the country, Grossmann said.
"We recognize that this project is only possible because many scholars and students have spent tireless hours creating, collecting, cleaning, and making data publicly available. We wanted to build on these efforts by bringing them into one user-friendly dataset. And we plan to add additional variables and keep it up-to-date," he said.
The Correlates of State Policy Project complements IPPSR's current activities and is part of its newly designed website, ippsr.msu.edu.
IPPSR's new website also features searchable databases for policy research and experts, news from IPPSR's survey research, information about grant and publication opportunities, events, the weekly Independent Streams  of policy-relevant reads and IPPSR-connected research, plus posts from the Michigan Policy Wonk Blog.