The Institute for Public Policy and Social Research is among the distinguished sponsors of this year's annual Canadian Forum, "Putting the Arctic in Plain Sight."
This year's CN Forum focused on the warming of the Arctic as it will likely give way to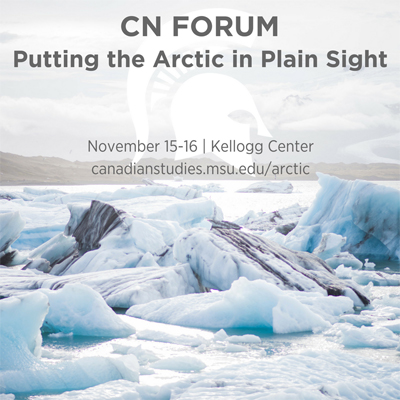 new energy resources. The Forum asked what geopolitical issues are likely to unfold, whether adequate regional environmental protection strategies exist and the research needs and business opportunities in the Arctic. It also explored how the rest of the world will feel the impact of these changes.
Dr. Lawson Brigham, Distinguished Professor of Geography & Arctic Policy at the University of Alaska Fairbanks, and a Senior Fellow at the Institute of the North in Anchorage, was the keynote speaker at the CN Forum on Thursday, Nov. 16 at the Kellogg Hotel and Conference Center, Big Ten C.
Dr. Brigham is a career U.S. Coast Guard officer serving from 1970 to 1995, retiring with the rank of Captain. He served at sea in command of four Coast Guard cutters including a patrol boat, Great Lakes icebreaker, offshore law enforcement cutter, and the polar icebreaker Polar Sea sailing in Alaskan, Arctic & Antarctic waters.
Panelists speaking on "North American Competitiveness and the Arctic" who joined Dr. Brigham were:
The Hon. James Blanchard, former U.S. Ambassador to Canada and Governor of Michigan.
Mr. Douglas George, Consul General to Canada in Detroit.
Professor Jack Liu, Center for Systems Integration and Sustainability Director, MSU.
Professor David Closs, McConnell Endowed Chair, Supply Chain Management, MSU.
We expect to feature photos from the session soon and invite you back to this site to see them.
Download a poster for this year's CN Forum here: http://ippsr.msu.edu/cn_forum_17.pdf
Among this year's CN Forum sponsors were:
CN Railways
Office of the Vice President for Research and Graduate Studies (VPGRS)
Center for Systems Integration & Sustainability
College of Agriculture and Natural Resources
Center for European, Russian and Eurasian Studies in International Studies and Programs
Geography Department, College of Social Sciences
Institute for Public Policy and Social Research (IPPSR)
Supply Chain Management, College of Business