Educators and advisers to Michigan's longest-serving governor came together to celebrate and mark Gov. William G. Milliken's service to K-12 education in a special Legacy Forum online on Tuesday, Oct. 6.
Michigan State University's Institute for Public Policy and Social Research, in conjunction with MSU's Office of K-12 Outreach, hosted the Gov. William G. Milliken Legacy Forum on school finance and educational policy. See Milliken-related school finance and policy resources here..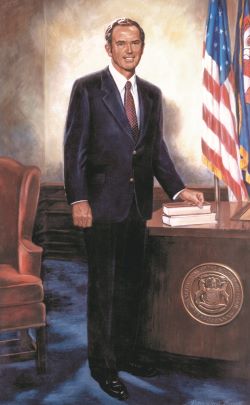 Milliken, a Republican, served from January 1969 to January 1983. He died in October 2019.
The session, featuring educational voices from the Milliken-era to current times will review the state's historical developments in light of current policies and concerns regarding school finance and racial inequities. See the video from this program.
Speakers included:
David Arsen, professor of Education Policy and K-12 Educational Administration, Michigan State University.
Bill Rustem, chief staff advisor on environmental matters, administration of Gov. William G. Milliken, retired president and chief executive officer, Public Sector Consultants.
Terah Venzant Chambers, professor and Associate Dean for Equity and Inclusion, MSU Department of Educational Administration, College of Education, Michigan State University.
"Our speakers included those who served with Gov. William G. Milliken and those who have first-hand knowledge about current issues and the challenges between the decades," said IPPSR Director Matt Grossmann. "We are excited to host this Forum to that brings together our past and illuminates our future through the lens of present times. We will seek today's lessons from past governance."
Bryan Beverly, director of MSU's Office of K-12 Outreach, will host the Legacy forum with Grossmann. "Michigan and the nation faced times of transition and social upheaval during Milliken's tenure. The world faced questions about technological innovation, environmental change, national security and racial equity. These questions remain relevant today."
IPPSR is a center for policy education, political leadership training and development and survey research, initiating discussion of society's most pressing needs among diverse audiences and building problem-solving relationships between the academic and policymaker communities.
The Office for K-12 Outreach connects research with practice in schools and districts across Michigan, the U.S., and the world. MSU K-12 Outreach works with K-12 educators, administrators, philanthropic organizations, and policymakers to increase personal, institutional, and system wide capacity focused on improving education for all students.