Michigan State University's Michigan Political Leadership Program has joined with similar programs in five other states for the first-ever summit of leadership training programs across the nation.
Leaders from the six states met to share research and seek out best-practices in recruiting, training and financing for programs that inspire political leadership from the grassroots to the statewide level.Nearly 20 people attended the day-long session which brought together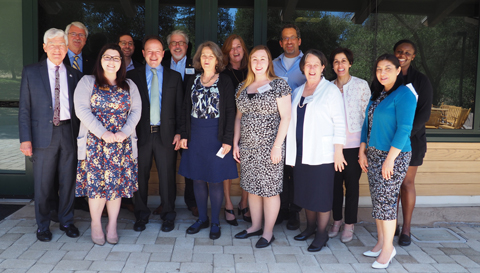 "This was a great first step toward bringing leaders from states around the country in a single place to review common strengths and weaknesses and to develop a guiding set of potential best practices," said IPPSR Director Matt Grossmann.
Leadership Delaware, The Institute for Women in Politics of Northwest Florida Inc., Michigan Political Leadership Program in MSU's College of Social Science, North Carolina Leadership Forum at Duke University's Sanford School of Public Policy, Leadership South Dakota and the Sorensen Institute for Political Leadership at the University of Virginia participated in the summit.
Grossmann and MSU doctoral student Jamil Scott, an IPPSR Graduate Fellow, opened the summit with new research focused on political leadership programs around the country.
Their research extended current work showing why voters' choose a candidate and why candidates choose to run. Their work reflected training organization operations, structure and results.
Grossmann found that such programs are multi-faceted, offering a variety of learning styles from workshops to seminars, courses and programs. On average, the programs have been in existence for 20 years, obtain funding from participant fees, alumni or corporations, update curriculum each year, have a small staff and address networking, communication skills, leadership styles, public policy, mentoring and campaign strategy and ethics, among other essentials.
Scott's research, spanning the years 2003 to 2015, found that the very existence of a training program encourages women to run for public office. Being involved with a political party and a strong desire to run for political party could make the difference for candidates, she found.
MPLP Co-Director Steve Tobocman attended the political education summit and called it a valuable opportunity to swap and share new ideas and to create a potentially new network of similar programs around the country.
"The brainstorming was great," said Tobocman, a former House Majority Leader and three-time Michigan House member. "We were able to share our greatest strengths alongside the needs and challenges we see now and into the future."
Terry Strine, Leadership Delaware's founder, chairman and CEO, wore a memorable pin celebrating the program's 25th anniversary. The pin's single word –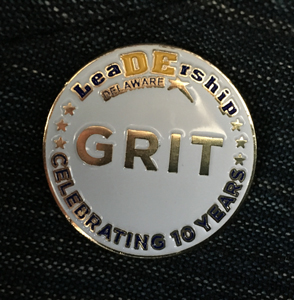 "GRIT" – demonstrates Leadership Delaware's values and mission. "Are you exceptional? Do you have grit?" he asked.
"It has been such an honor and a delight, and very very beneficial for us to have had the opportunity of sharing best practices, gaining from and giving to each our unique and most successful initiatives," he said.
Other sessions focused on MSU's state of field research into political leadership programs similar to MPLP, strengths and weaknesses between the groups, curriculum, staff and presenters, recruiting, alumni engagement, budget and fundraising, governance and outreach and steps toward assessing most common goals and best practices.
Among the group's next steps: invite additional groups to join the developing network, explore existing national groups with like interests, consider regional networks, develop a baseline of civil literacy, seek more measures of evaluation and impact, form small work groups to focus on specific projects and search out additional fundraising methods.
As members of the group departed for their home states, they expressed a desire to stay in contact and shared hope that the developing coalition would work together to explore new opportunities.
"I am confident that each of our state programs and organizations are stronger for this experience, and we all hope for future opportunities similar to this. I am sure we are all asking ourselves and each other, when can we do this again, with more leadership," Strine said.
IPPSR is a unit of MSU's College of Social Sciences and specializes in public policy education, compiled resources of interest to researchers around the world, political leadership training and survey research available to students, faculty, nonprofit and for-profit organizations. More information can be found at ippsr.msu.edu.
MPLP selects 12 men and 12 women to serve as MPLP Fellows. During a 10-month training schedule, they meet one weekend per month in sessions that take them around Michigan, into the offices of Michigan government and industries and into hands-on exercises exploring public policy and leadership.
To date, more than 600 alumni have completed MPLP training, and nearly half of them are serving or have served in appointed or elected offices.Applications for the MPLP Class of 2019 are available now and due Friday, Sept. 28. Read more information about MPLP online at http://ippsr.msu.edu/political-leadership/michigan-political-leadership-program-mplp/about-mplp.
Applications for the MPLP Class of 2019 are available now and due Friday, Sept. 28. Read more information about MPLP online at http://ippsr.msu.edu/political-leadership/michigan-political-leadership-program-mplp/about-mplp.