The first findings from a new model to help improve the state's lowest performing schools are positive, encouraging and leading researchers to raise questions about whether the achievements will continue over time.
Educators and education researchers reviewed "Michigan's Partnership Model" in IPPSR's premier Public Policy Forum webinar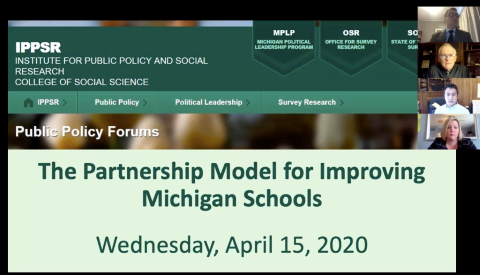 hosted over Zoom. See the video.
"In a time of crushing illness, job loss, business interruption and work from home due to COVID-19, we looked for creative ways to share  information that empowers parents, K-12 pupils, teachers and administrators," said Matt Grossmann, political scientist and director of the Institute for Public Policy and Social Research (IPPSR).
Forum panelists also discussed how the multi-layered improvement initiatives might fare under COVID-19 threats. "Are turnaround districts turning Michigan schools around," Grossmann asked over Twitter. "How are the worst-off schools and researchers adjusting to the end of face-to-face instruction."
In March 2017, Michigan began discussions toward developing "partnership" agreements with 10 of the state's school districts. The goal of the partnerships is to increase achievement levels at the lowest performing schools.
To date, follow-up research has measured notable improvements, but observed that some of the advances may be difficult to maintain over time. IPPSR is sponsor of a Michigan Applied Public Policy Research paper reviewing the program's first-year progress. The paper can be found here.
"This IPPSR Forum defined the partnership model, took a close look at the review findings, and examined what is most needed to keep test scores rising, teachers remaining in the profession, and communication growing between the schools and district offices," said AnnMarie Schneider, who leads IPPSR's program planning and policy education division and oversees the Public Policy Forums.
Panelists included:
Venessa Keesler, Ph.D., Deputy Superintendent, Division of Educator, Student, and School Supports, Michigan Department of Education
Bill Pearson, Ed.D., Director, Partnership Districts, Michigan Department of Education
Jason Burns, Ph.D., Postdoctoral Research Fellow, Education Policy Innovation Collaborative, Michigan State University
Chris Torres, Ph.D., Assistant Professor, Department of Educational Administration, College of Education, Michigan State University
All materials, including presentations and video from previous IPPSR Public Policy forums, are available on IPPSR's website at http://bit.ly/2nImpSR. See also #IPPSRForum over Twitter.
IPPSR is a unit within the College of Social Science. Its focus is on public policy education, leadership and survey research.
In addition to the Public Policy Forum series, IPPSR is home of the Michigan Political Leadership Program, the Office for Survey Research, State of the State Survey, Correlates of State Policy, State Networks, State of the State Podcast, Public Policy Graduate and Undergraduate Research Fellows, Michigan Policy Insiders Panel and Michigan Policy Wonk Blog.