For four decades, Michigan State University has been honoring the life of an undergraduate science enthusiast who helped to pioneer internships in the Michigan Legislature.
A new year of Daniel Rosenthal workshops and scholarships opens Friday, Jan. 31 with a session focused on internship excellence.
The workshop starts at 11:30 a.m. and features a light luncheon and speakers offering tips on internship best practices in the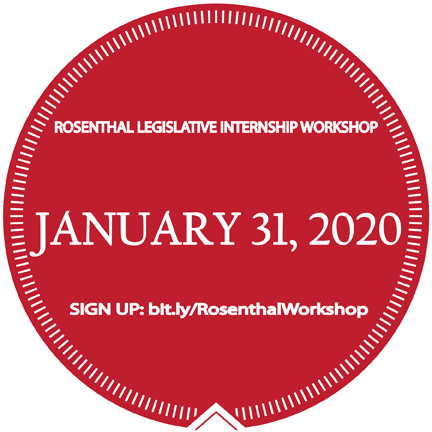 Mackinac Room, fifth floor of the Anderson House Office Building (HOB).
The HOB is located at 124 N. Capitol Avenue, across from the state Capitol in downtown Lansing. Reserve your seat now at http://bit.ly/RegisterRosenthal.
"This is a great opportunity for all interns who work in the Michigan Senate or Michigan House of Representatives," said Matt Grossmann, director of MSU's Intitute for Public Policy and Social Research.
Rosenthal, one of the first to take part in MSU's Legislative Student Intern Program, unexpectedly passed away while continuing his internship in 1977. His family made the award, and a series of new career-building workshops, a part of his legacy. He was enrolled in Lyman Briggs College, where students specialize in science and math.
IPPSR hosts the program, including six workshops during the academic year, wth James Madison College. Workshops alternate between sharing information on internship excellence and on career opportunities for those who have served as legislative interns.
This 2020 Rosenthal awardwinner will be named Wednesday, April 8. Besides the award ceremony, a special panel will discuss next steps for interns preparing for public service careers.
Legislators are to nominate interns for the award, carrying a cash stipend, by March 18, 2020.Interns may also submit an application for the award. The application is also due March 18.
Additional workshops, all taking place at 11:30 in the Mackinac Room, are set during 2020 on:
Wednesday, May 20, focusing on best practices for lesislative interns.

Wednesday, August 12, focusing on post-internships success.

Friday, Sept. 25, preparing for internship excellence.

Friday, Nov. 13, preparing for future opportunies.
"The Rosenthal Program has expanded over the years to offer advice, cash awards and networking opportunities for legislative interns to build years of career success," said Sherman Garnett, dean of MSU's James Madison College.
###