Consumers around the world are seeking products that are sustainably manufactured and designed for disposal or reuse, and Michigan businesses are moving to meet the demand.
In this month's Public Policy Forum, speakers focused on how Michigan's manufacturers and goods and services industries are transforming their products to address the need for #sustainability and #zerowastetolandfill. They described systems thinking and a circular economy that travels from materials to new products to reuse and repurposing, in other words "take, make, dispose" as described in Rex LaMore's presentation. LaMore is MSU's director of the Center for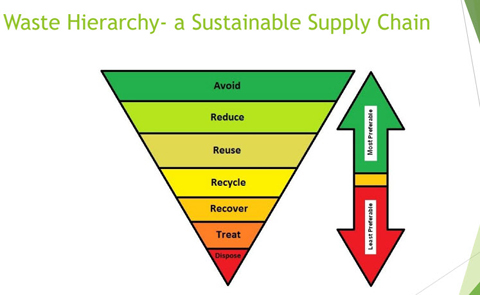 Community and Economic Development & Urban and Regional Planning Program.
He spoke of a waste hierarchy building a sustainable supply chain. He also pointed to a new way of looking at the value of abandoned structures, called domicology. Find out more about that at domicology.msu.edu.
MSU looks at sustainability through a four-part lens that focuses on campus, curriculum, culture and community and puts the university's sustainable future at the heart of the model.
The challenges in a global and connected economy include energy systems, climate change, transportation and electrification, biodiversity, water, solid waste management and recycling.
All presentations are now available on http://bit.ly/2nImpSR
The season's next IPPSR Forum is set for Wednesday, April 15, 2020 and will review new partnerships to improve faltering schools. The discussion will begin at 11:45 a.m. and run through 1:30 p.m. The forum is free and open to the public. Pre-registration is strongly encouraged online at http://bit.ly/IPPSRForum as open seats and lunch are available on a first-come, first-serve basis.
All materials, including presentations and video from previous forums, are available on IPPSR's website at http://bit.ly/2nImpSR.
See the entire IPPSR Public Policy Forum on video online.
IPPSR is a unit within the College of Social Science. Its focus is on public policy education, leadership and survey research.
In addition to the Public Policy Forum series, IPPSR is home of the Michigan Political Leadership Program, the Office for Survey Research, State of the State Survey, Correlates of State Policy, State Networks, State of the State Podcast, Public Policy Research Fellows, Michigan Policy Insiders Panel and Michigan Policy Wonk Blog.