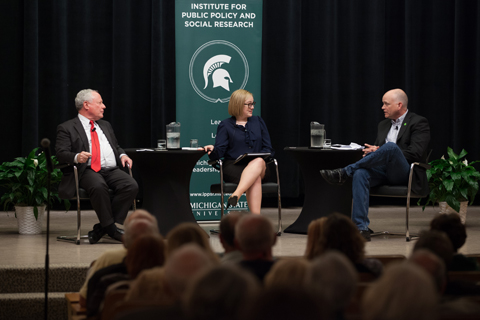 Every new president seeks to make his mark on the country during the administration's first days.The First 100 Days of a new presidency have come to be a mark too for establishing a personal governing style and advancing a new agenda.
This year, businessman President Donald J. Trump has taken the oath of office, and seeks to claim an early legacy through changes in healthcare, immigration, foreign policy and the national budget. Those issues, and the administration's achievements and difficulties, were under review as Michigan State University explored the First 100 Days of the Trump Administration on May 1.
See photos from this historic and very special IPPSR engagement.
The evening featured Bill Kristol, editor at large of The Weekly Standard and a regular on ABC's This Week along with ABC's special events and election coverage, will speak. Before founding The Weekly Standard in 1994, Mr. Kristol led the Project for the Republican Future, where he helped shape the strategy that produced the 1994 Republican congressional victory. He served as The Weekly Standard's editor for 12 years.
Mr. Kristol was joined by Ron Fournier, a nationally recognized journalist and new publisher of Crain's Detroit Business. Mr. Fournier formerly served as senior political columnist and editorial director of National Journal. Prior to joining Atlantic Media, he was the Washington bureau chief and a 20-year veteran of the Associated Press.
Radio journalist and producer Zoe Clark served as the program's moderator. She is Michigan Radio's Program Director, overseeing all programming on the state's largest public radio station - including the station's award-winning newsroom, commentary, and daily news-magazine Stateside.
Clark also co-hosts It's Just Politics, a weekly look at Michigan politics airing Monday mornings on Morning Edition. She holds degrees in Communication Studies and Political Science from the University of Michigan.
This review was co-sponsored by IPPSR, specializing in public policy, leadership development and social research, the LeFrak Forum and Symposium on Science, Reason and Modern Democracy, and MSU's Department of Political Science.
It marks the 25th anniversary of a similar MSU event reviewing the first 100 days of the Bill Clinton administration, which brought back that election's debate moderators from MSU's 1992 presidential debate. Kristol and Fournier also closely followed the Clinton, George W. Bush, and Barack Obama administrations and will be able to offer comparisons and comments on the changing role of presidential agendas in American politics.
See Historical Footage
See the C-SPAN video

 

of MSU's program marking President Bill Clinton's First 100 Days in April 1993.
See the C-SPAN video

 

of the final debate between presidential candidates Republican President George H.W. Bush, Democrat Bill Clinton, and Independent Ross Perot. The debate took place in 1992 at the Wharton Center on the campus of Michigan State University