Michigan's premier political leadership program will be on the road to Detroit this June, inviting emerging leaders to learn more about leadership, health access, wellness and care in the state's largest community.
"We are exploring health equity, what vulnerable populations face when accessing health care and what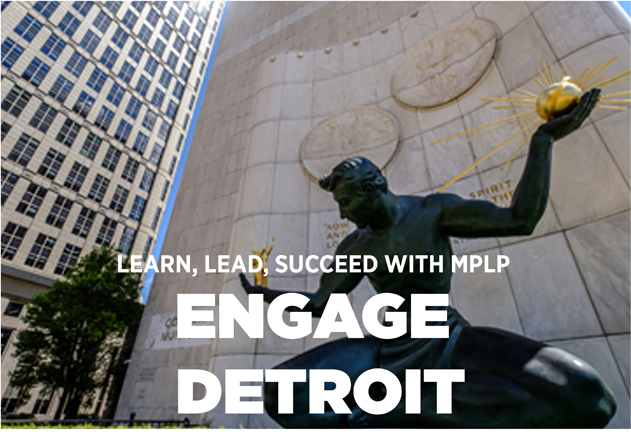 troubling disparities need to be addressed," said Steve Tobocman, co-director of Michigan State University's Michigan Political Leadership Program.
MPLP will host a special Engage Detroit session Thursday, June 6 at 5:30 p.m. at MSU's Detroit Center, 3408 Woodward Ave.
"We hope this time of day will invite people as they leave work or as they end their day to learn more about these critical issues," said Tobocman, former state House Majority Floor Leader, the chamber's second highest leadership position,.
He now joins Susy Avery, former Republican state party chair, in co-leading the program that annually selects 24 emerging leaders from around the state to participate in 10 months of specialized training.
MPLP was founded to help prepare aspiring leaders for elected positions in a time of term limits. MPLP Fellows commit to the training including sessions on personal leadership and interactions, policy analysis, media relations, ethics and the concepts of good governing.
The June session will bring together MPLP alumni to share their stories of leadership challenge and success with regional health care leaders discussing the challenges that vulnerable populations face in accessing and paying for health care.
"We know, from studies of national health care, that significant numbers of minority citizens face significant disparities in obtaining healthcare services," Tobocman said. For example, he said, they are more likely to be uninsured and to face added costs even when they can obtain care.
MPLP, a certificate program offering a bipartisan learning environment, is now recruiting candidates for its Class of 2020. The class starts monthly sessions in early 2020. Applications are online here and are due by Friday, Sept. 13, 2019. Successful candidates will be notified in late 2019.
"We are looking for problem solvers, for those looking to build their skills to learn, to lead and to succeed in leadership," Avery said.
Applications can be found online at http://bit.ly/MPLPApply.
More than 700 people from around the state are MPLP graduates, demonstrating new skills in business, nonprofit organizations, the state House, the Michigan Senate and elected positions around the state and west Michigan.
Among MPLP graduates are tribal leaders, Michigan's current Secretary of State, a state House speaker, a state House majority leader, the current Secretary of the Michigan Senate, a Detroit mayor and scores of school board, township, city and precinct leaders.
In the 2018 election, MPLP alumni won six Michigan Senate seats, 11 state House posts, two seats on governing boards of the state's research universities, three judgeships and at least a dozen local races.
MPLP applicants must be 21 years of age, a registered voter in the state of Michigan, available to attend all weekend sessions and not seeking elective office at the same time they are applying for the fellowship program.
Applicants must demonstrate:
Interest in running for public office
Desire to enhance leadership skills to serve
Desire to participate in the political process
Dedication to sound public policy
Experience in local community activities and electoral politics
Willingness to learn and explore different points of view
MPLP is a part of the Institute for Public Policy and Social Research (IPPSR), in MSU's College of Social Sciences. IPPSR specializes in leadership, public policy and survey research.
"Engage Detroit is an excellent opportunity to learn about the Michigan Political Leadership Program's opportunities for aspiring leaders," said Interim IPPSR Director Arnold Weinfeld.
"All are welcome to this free event," Weinfeld said. "You'll find healthcare specialists offering excellent resources and MPLP alumni sharing their experiences with a program that can help others succeed as they have."
Engage Detroit health equity panelists are :
Ciara Boggs, who works in community health obesity prevention, Beaumont Health
Alex Hill, chronic disease and injury prevention program manager, Detroit Health Department
MPLP alumni panelists are:
Megan Blue, Health Policy Analysis, Beaumont Health
Rose Dady, Community Engagement, Blue Cross Blue Shield
Tracey Schultz Kobylarz, Supervisor, Redford Township
State Rep. Andrea Schroeder
Nancy Short, Corporate and Community Partnerships, Beaumont Health
Nicole Wells Stallworth, Assistant Vice President, Government and Community Engagement, Oakland University 
Engage Detroit is part of a series of similar programs taking place across the state this spring and summer with the support of the W.K. Kellogg Foundation of Battle Creek.
Note: A full list of Detroit and southeastern Michigan MPLP graduates can be found here.