Be a source BEFORE you are a subject.
Know your key messages.
Know the 10 C's of communications.
With political public relations guru Kelly Rossman of Truscott Rossman and press corps veteran John Lindstrom of Gongwer on the MPLP stage, you've got a night of information and entertainment.
But when Lindstrom reacts to Rossman's discussion of talking points – crumpling a piece of paper and sending it in a flat spiral to the trash can (he missed!) you've got a weekend to remember.
That's the essential law of the Michigan Political Leadership Program's Weekend VII, a demanding two days of highly focused media attention on a singular lesson: political candidates and potential leaders should be prepared for almost anything.
"Anticipate all questions," Rossman, who worked in the Democratic administration of Gov. James Blanchard as well as in the Michigan House and Senate and is known as a pioneer in crisis communications, advises in her pointed outline titled "feeding the bears."
"Know your facts – and stick to them. Know when to stop talking.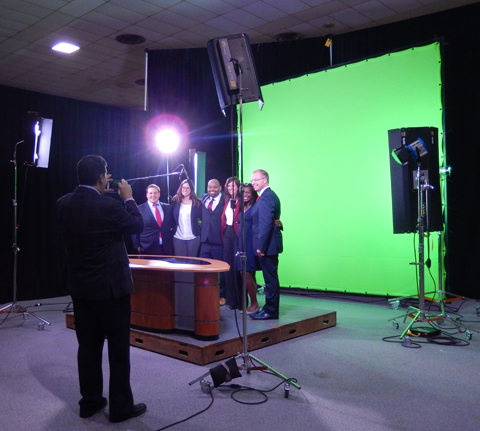 Tell the truth," she advises.
Lindstrom, ink-stained blog writer and publisher of Gongwer News – Michigan online newspaper, describes politics and the press in signature style: "Politics and the press are mutual hosts and parasites."
"Think before you speak. Know the issues. You can't hide from the press. Only blame the press if the press is to blame. Don't do anything that would shame your mother."
Well-advised on media relationships, how to dress for television interviews, social media policies and armed with a reading list on politics and the English language and the emergency of a free press, MPLP's 24 2016 Fellows are well prepared for the rest of the weekend.
Dressed in their TV best, their makeup touched up and hair given a final brush, MPLP Fellows were featured in 15-second television commercials, withstood the pressure of radio and television news interviews and were grilled by a mock editorial board with the power to endorse them – or not.
Each chose a public office to seek – a pretend public office, not a real one, then wrote commercials and conducted interviews with those offices in mind.
No Clunky Jewelry
Everything from clothing to scripts for their simulated exercise was under scrutiny. "There's a difference between speaking on TV and public speaking," Rossman told MPLP Fellows. "On television, every motion is magnified. You have to be very still."
On men's shirts: "Dark colors exude authority," Rossman said. "On television, you look almost as white as your white shirt." On women's dresses: "You want something that shows you, not something that says 'nice dress.'"
No clunky jewelry. "Dress the way you always do for business and avoid visible distractions," suggested TJ Bucholz, MPLP Class of 2003 graduate and president of Vanguard Public Affairs. He walked and talked MPLP Fellows through the intricacies of television commercials. He kept them on time, on pace and praised them for their personal presentations.
"This is practice," he encouraged. "Even the best orators practice, all the time." He sought emotion even in brief appeals for voter attention. "I want to see passion," he said. "I want to see some eyebrows."
That was one of the weekend's highlights, said Adi Sathi, of Novi, vice chair of coalitions for the Michigan Republican Party. "Being able to work with professionals," he said. "Television was the most challenging. Focus and quick reactions are required."
Robert Kolt, chairman and CEO of Kolt Communications, Inc., shared television news interview tips with MPLP Fellows then put them before TV cameras for unscripted interviews. "You guys are going to knock them dead," he said in encouragement.
Then he pursued MPLP Fellow Lauren Keck, of Grand Rapids, about her selection of a hometown school board post. Her election bid was a made up – not a real one – just for the Saturday exercise.
"Why do you want to be on the school board, Lauren," Kolt began. "There is no worse political, elected office to be on a nonpaying school board. The time and work that you have to put in it's just not appreciated by the public is it?" Lauren's calm response: "I believe serving on the public school board is the best position to hold."
Don't Be Afraid
Radio veteran Vickie Thomas, WWJTV-CBS beat reporter, worked with the fellows to conquer radio interviews. Fellows moved to an inner office to a phone well out of Thomas' hearing and sight lines, then came back to her microphone for the critique. When one mentioned nerves; she had only compliments. "You couldn't hear the nerves. And I couldn't see them," she said.
From radio and TV, MPLP Fellows followed their assignments to a mock editorial board meeting. Such meetings, typical at newspapers, are conducted to allow candidates to pitch their campaigns for endorsements.
The editorial board is typically slower paced, group members advised. They may be taped, and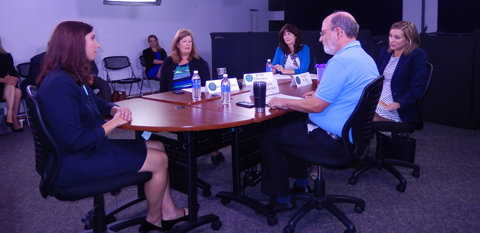 they expect candidates will bring deep knowledge and thoughtful commentary to the table. The simulation featured tough questioners: Communications and former political writer Chris Andrews, former AP Bureau Chief and current senior account executive for Martin Waymire, plus Abigail Walls, MPLP Class of 2014 graduate and reporter for MIRS News. Kelly  Chesney, vice president for marketing and communications at Business Leaders for Michigan, moderated.
"Don't be afraid to pivot to turn and talk about the things you want to make sure are included," Hoffman counseled, valuable information said MPLP 2016 Fellow Gary Tompkins, of Homer, a self-employed cost and finance specialist.
"This has been wonderful," he said. "I learned how to pivot on a question I wasn't anticipating. The practice was great."
The sighs of relief sounded through the television and radio studios as MPLP fellows finished their on-camera work. They followed those with hearty applause for a round of great television interviews and commercials projected on giant screens during lunch.
The session concluded on a more somber topic – crisis communications. Sara Wurfel, former press secretary for Gov. Rick Snyder and current vice president of public affairs for Truscott Rossman, outlined the need to be prepared to face crises.
"What a crisis is varies dramatically," she said, adding that the current 24/7 news cycle takes news around the world to three billion people on social media alone.
She stressed credibility, and the need to demonstrate care and compassion when crisis looms. "Care, compassion and concern matter," she said. "Words matter. Context matters. Narrative matters. What you say matters. Speed is essential. Try to figure out the next steps."
Post-crisis, she said, "hot wash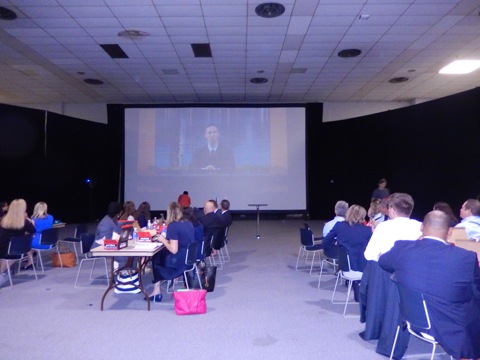 " or debrief, assess, analyze, update and adapt.
As she spoke, announcements of potentially crisis-level weather were made throughout the room.
Lessons learned, one MPLP Fellow checked his cellphone and made a quick break to connect with his at-risk community.
Just checking, he said, with the police chief to make sure all was ready for any coming weather crisis.