Michigan's first-ever citizen redistricting initiative is underway and Michigan State University's Institute for Public Policy and Social Research opened the new year with a Public Policy Forum focused on redrawing of state governing districts.
Secretary of State Jocelyn Benson led off the IPPSR Public Policy Forum calling for all Michigan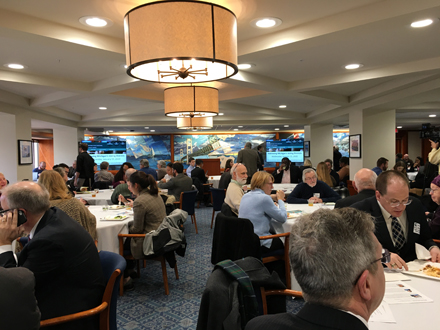 citizens to participate in the mapmaking..
IPPSR Director Matt Grossmann, associate professor of political science, followed her with insights into the history and high stakes of drawing voting district lines once the U.S. Census is completed.
Also on the panel:
Jon Eguia, associate professor, Department of Economics, MSU
Nancy Wang, executive director, Voters Not Politicians. The organization spearheaded the ballot proposal to establish the citizens redistricting commission.
Don't miss their presentations available at the IPPSR website online here. Video from the entire IPPSR Public Policy Forum will be available soon. Check the Twitter storm @IPPSR #IPPSRForum.
IPPSR will host additional Public Policy Forums in the Mackinac Room at 11:30 a.m. unless otherwise announced. The Forums are set for:
Wednesday, Feb. 12, 2020
Wednesday, March 11, 2020
Wednesday, April 15, 2020
All materials, including presentations and video from previous forums, are available on IPPSR's website at http://bit.ly/2nImpSR.
MSU's Institute for Public Policy and Social Research is a unit within the College of Social Science. Its focus is on public policy education, leadership and survey research.
In addition to the Public Policy Forum series, IPPSR is home of the Michigan Political Leadership Program, the Office for Survey Research, State of the State Survey, Correlates of State Policy, State Networks, State of the State Podcast, Public Policy Research Fellows, Michigan Policy Insiders Panel and Michigan Policy Wonk Blog. Benson is a graduate of IPPSR's Michigan Political Leadership Program.