Mon, 06/27/2016 - 11:47am

—
Finding yourself short on public policy resources? Research hitting a dead end? A Michigan State University institution may be the missing piece. IPPSR takes a leading role in promoting and organizing policy-relevant research across the issue spectrum. But someone else at MSU also may be able to help. To guide you, IPPSR has created a database of MSU institutions and academic programs relevant to public policy. You can access the spreadsheet by clicking here.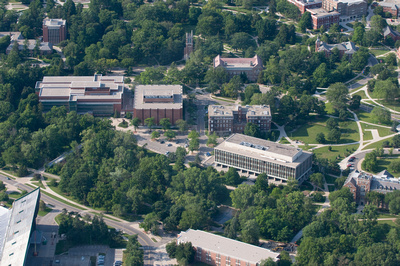 Organized by College and Department, IPPSR's database provides a hyperlink to all active MSU institutions and lists majors relevant to policy.
An institution featured in IPPSR's database is the MSU Center for Local Finance and Government Policy.  This institution provides tools and guidance to local governments to promote fiscally healthy communities.  The works to bring stakeholders together, assist the development of performance measurement metrics, and provide financial trend analysis for localities across the state. The Center has resources on topics such as municipal bankruptcy that can help those working for local governments or doing research.  Center staff have partnered with the City of Detroit since 2011 on revenue analysis, revenue forecasting and internships in the finance department.  
Another featured institution is the Center for Systems Integration and Sustainability, which brings together resources from MSU's campus and around the world to promote sustainability, disseminate knowledge, and utilize interdisciplinary research to create solutions for complex ecological problems.  The Center for Systems Integration and Sustainability's website features articles such as this one on China's shift to sustainable practices.  You can also search the 451 publications produced by researchers at CSIS on topics such as climate change and fisheries education or politics and energy efficiency.
MSU's Education Policy Center provides data and non-partisan testimony to inform decision-making on education policy at all levels of government.  Here you can find a briefing written by the Education Policy Center about four education bills passed in the Michigan House of Representatives and pending in the Senate.  These bills hope to improve the quality of teachers across the state by giving educators the resources needed for professional development and continued teacher education.  For those working with the City of Detroit, information about the state of Detroit Public Schools from the Education Policy Center can be found in this video brief.
MSU's Institute for Health Policy has a special relationship with the Michigan Department of Health and Human Services and its Medicaid Services Administration.  The Institute for Health Policy also plays a critical role in the annual Michigan Health Policy Forum, a series of seminars designed to foster discussion on current health topics and bring stakeholders together.
Also check out the Great Lakes Bioenergy Research Center and the Center for Economic Analysis. We hope you take advantage of all MSU has to offer.