Applications are available NOW for 24 select openings in the Michigan Political Leadership Program, one of the nation's foremost political leadership programs.
"MPLP is heralded as one of the nation's best recognized training opportunities for aspiring political leaders," said Arnold Weinfeld, interim director of the Institute for Public Policy and Social Research, MPLP's home at Michigan State University.
"MPLP leaders range from top-of-the-ticket officeholders to precinct delegates at the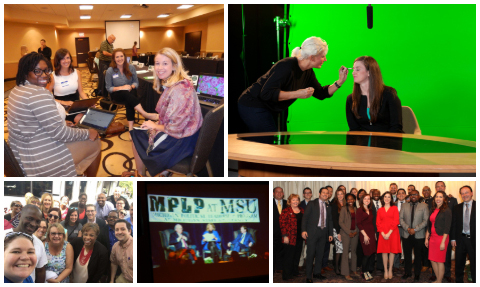 grassroots levels," he said. "MPLP training is praised as lifechanging and opportunity building."
MPLP was created in 1992 to prepare rising leaders for Michigan elected office at a time of term limits. "The goal: to give those seeking public office the tools to govern wisely and well," Weinfeld said.
Applications for the MPLP class beginning in 2020 can be found online at http://bit.ly/MPLPApply and will be due Friday, Sept. 13, 2019.
MPLP, a Michigan State University certificate program, offers 10 months of political leadership training every year to 24 people from throughout Michigan.
MPLP Fellows take part in a series of events and activities – to gain personal leadership skills and excellence -- around the state before a gala graduation featuring political leaders from around the state and nation.
Two co-directors are at MPLP's helm, one from each major political party. Together, in a bipartisan environment, they share duties nurturing and mentoring the 12 men and 12 women selected for the largely weekend sessions hosted around the state.
"MPLP emphasizes practice and the practical in public office," said Susy Avery, former Republican party chair and MPLP co-director.
"Sessions are hands-on and MPLP Fellows take part in team and coalition-building activities. Our goal is communication and the exchange of ideas. Our faculty is top flight – elected leaders, activists, MSU researchers, media and business pros from across Michigan."
MPLP's own research is proof of the program's success, said Steve Tobocman, former House Democratic Floor Leader who shares directorship duties with Avery.
"People who complete MPLP are more likely to run for office, and to win their races," he said. "We have awarded certificates to nearly 700 graduates. They play leading roles in businesses, nonprofits, the state House, the Michigan Senate and in elected positions around the state."
Among MPLP's most notable graduates are a new Michigan Secretary of State, a former Detroit mayor, a former state House speaker, state House and Senate members and scores of members of school boards, township boards and county board members.
In the 2018 election, MPLP alumni won six Michigan Senate seats, 11 state House posts, two seats on governing boards of the state's research universities, three judgeships and at least a dozen local races.
"It's an incredible record," Tobocman said. "We encourage those who are inspired to public service to gain critical skills to learn, lead and succeed to apply for an incredible experience with MPLP," Tobocman said.
MPLP applicants must be 21 years of age, a registered voter in the state of Michigan, available to attend all weekend sessions. MPLP applicants may not be seeking elective office in the year they apply for the fellowship program.
Applicants must demonstrate:
Interest in running for public office
Desire to enhance leadership skills to serve
Desire to participate in the political process
Dedication to sound public policy
Experience in local community activities and electoral politics
Willingness to learn and explore different points of view
Successful candidates must complete an online application, write a statement of personal goals and describe a pressing public policy issue and provide a resume and two letters of recommendation.
The MPLP Fellowship covers lodging, meals and program costs. Fellows accepted into the program are asked to pay a $1,500 administrative fee. Scholarship funds to defray the fee are available on a limited basis.
MPLP is a part of the Institute for Public Policy and Social Research (IPPSR), in MSU's College of Social Sciences. IPPSR specializes in leadership, public policy and survey research. It is home to the Office of Survey Research, Public Policy Forums, the State of the State Survey, the State of the State Podcast and major research databases featuring policy information from around the nation.