With Michigan's mid-term elections underway, Michigan State University's Michigan Political Leadership Program alumni are on ballots across the state.
More than 20 alumni are running for seats from U.S. Congress to Michigan House, Senate and Secretary of State. Another three are seeking judicial positions.
"We're proud of this record and proud of all MPLP alumni who have stood for  public office over the years," said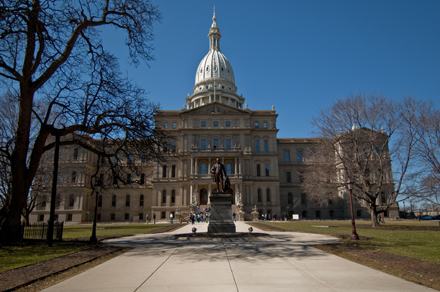 Arnold Weinfeld, interim director of MSU's Institute for Public Policy and Social Research (IPPSR).
MPLP, created in 1992 to help prepare candidates for office, makes its academic home IPPSR in MSU's College of Social Science. IPPSR is known for its political leadership training, policy education and survey research.
See the entire list of MPLP alumni seeking congressional, statewide, state House, state Senate or judicial positions.
MPLP, a bipartisan 10-month fellowship program, trains 24 people a year in personal leadership, policy analysis and good governing in a series of weekend sessions spanning 10 months. Current MPLP Fellows are finishing up training this month.
In the Nov. 6 general election, one MPLP alum is running for U.S. Congress and another is vying for Secretary of State. One is seeking election to University of Michigan Board of Regents and another is looking to win a seat on the Wayne State University Board of Governors.
One is running for the Michigan Court of Appeals. Two more are seeking Michigan Circuit Court spots.
Four are running for re-election in the Michigan Senate. Four more are looking for Senate seats after service in the Michigan House and three incumbent House members are seeking re-election.
Six MPLP alumni are running to serve as first-time House members.
Until new leaders take their seats in 2019, 11 MPLP alumni serve together in the state House and Senate.
Almost 700 people from across the state have completed MPLP training that takes them across the state to visit communities and organizations and to learn about finance, campaigning and successful relationships from government, private industry and media leaders.
Twice a year, MPLP hosts fundraisers that invite two nationally known political speakers and raise essential financing for fellowships. In 2019, political campaign advisers Alex Castellanos and Patti Solis Doyle will headline dinner on Thursday, March 7 in Novi and breakfast on Friday, March 8 in Grand Rapids.
More information and tickets are available at mplp.msu.edu.