From the tiniest stick in a newborn's heel to detect disease to the tradeoffs of new technologies putting driverless cars on the roads now, Michigan State University's Institute for Public Policy and Social Research is calling for proposals for grants to drive innovative public policies of the future.
The Institute, a unit of MSU's College of Social Science, is accepting proposals for the 2019-20 Michigan Applied Public Policy Research Grants through Wednesday, June 12, 2019.
Individual grants offer up to $25,000 for applied research on a current Michigan public policy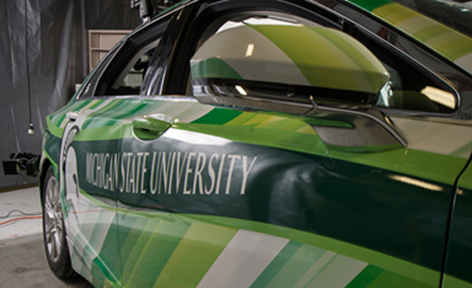 issue. A total of $150,000 in MAPPR grants are distributed annually, said IPPSR Interim Director Arnold Weinfeld.
Those receiving grants are to write a policy brief, intended for policymakers, outlining their findings.
"This is a great way for researchers to gain support for innovative work that directly applies to Michigan policy, that can result in new legislation and can lead to more effective governance," Weinfeld said.
See winning proposals for 2018-2019. See research resulting from proposals of the past.
The grant funding runs for one year and grant recipients for each award must include at least one Michigan State University faculty member to serve as the lead investigator. Collaboration among faculty and cross disciplinary research is encouraged, as is the engagement of graduate student researchers, Grossmann said.
For more information about the Michigan Applied Public Policy Research grants, email Program Administrator AnnMarie Schneider at annmarie@msu.edu or call 517-353-1738. Detailed information about the grant program and a suggested briefing format can be found at http://ippsr.msu.edu/public-policy/michigan-applied-public-policy-research-mappr/grants