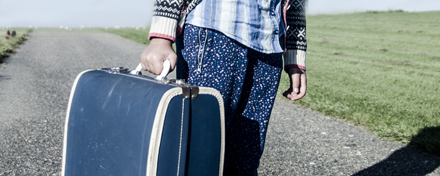 Wednesday, April 19, 2017 -

11:30am

—

1:30pm
Mackinac Room, Anderson House Office Building, 5th floor, downtown Lansing, MI
Register here to attend IPPSR's April 19, 2017 Public Policy Forum "Uncovering the Obscurity for Human Trafficking."
Human trafficking is known as modern day slavery, an enterprise of buying, selling, and smuggling people and second in size only to the international drug and arms trade economy.
The average age for victims of human trafficking is 12 and the markets for these young women are varied – domestic and farm labor, prostitution, begging and even organ donation. As recently as March 2017, an arrest was made in Michigan's capital where law officials say simple awareness can help communities further fight against the crime. How are state legislators, law enforcement and human service providers collaborating to combat human trafficking? What are the intervention services, protection and judicial options for survivors? Given an uptick in this crime, how might state human trafficking policies be revised to reduce the incidence of such a horrific crime? IPPSR's April 19 Public Policy Forum will address these questions with the help of panelists:
Jane White, director and founder of the Michigan Human Trafficking Task Force, a non-profit organization through the School of Criminal Justice at Michigan State University.  She has worked with large city governments including police departments and juvenile courts in Michigan, Mississippi, Illinois, Wisconsin, Virginia, Florida, and California to tackle human trafficking. She serves the Michigan Commission on Human Trafficking by appointment of Michigan's Atty. Gen. Bill Schuette.
Sheila Meshinski, staff development adviser for Henry Ford Health System, and a former emergency room nurse for 35 years, dedicated to educating the public and healthcare community on human trafficking. She belongs to the International Forensic Nurse Association and is a governor's appointee to the Michigan Human Trafficking Task Force.
Meredith Reese, vice president of treatment programs for Vista Maria, a human services agency provider to victims of abuse, neglect, and trauma. She is a Best Practice Leadership Award recipient from  the Michigan Department of Health and Human Services for her work in planning and implementing residential treatment and foster care programs for those most in need.
Kelly Carter, state assistant attorney general, Criminal Division, Prosecutor for Human Traffickers and expert advisor to House and Senate subcommittees considering legislation involving child sexual exploitation and human trafficking. She trains legal, health and other community professionals throughout Michigan to identify and address human trafficking.
A light lunch will be served. There is no charge to attend.
Michigan State University's Institute Public Policy and Social Research (IPPSR) is the host of this forum. Given Michigan's international border and the incident of human trafficking across it, the Canadian Studies Center will co-sponsor the discussion.